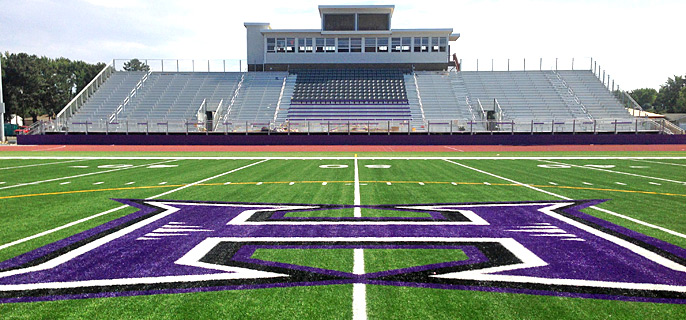 A new report shows that the Hermiston School District generated over $7.3 million in economic impact to Umatilla County, leading to 78 jobs, as a result of the events hosted across the district during the 2013-14 school year.
The economic impact study, performed by Abe Farkas and Carsten Jensen of EcoNorthwest, analyzed both district-sponsored and district-hosted events and quantified the economic impacts to local and regional businesses.
EcoNorthwest found that the district's facility offerings – the community and grant funded Kennison Field; well-maintained high school auditorium; and over one million additional square feet of gymnasiums, ball fields, auxiliary auditoriums, and other venues – generated 436 events with over 192,000 attendee days (days per attendance per spectator) during the 13-14 school year.
The report revealed that attendees provided an estimated $5.8 million in initial economic impact, as well as an additional $1.5 million in subsequent spending (what economists refer to as the "recirculation" of the original dollars). Farkas and Jensen further provided labor stimulus from the events; excluding school district labor, the report reveals a total labor impact of nearly $2.0 million, supporting up to 78 full-time equivalent jobs across Umatilla County.
One of the key components to the commissioned report was the analysis of the affect provided by the district hosting non-district groups and organizations. Recent facility improvements yielding larger gymnasiums, playfields, venues, and spectator access have attracted 64 significant "outside" events during the 2013-14 school year, which equated to over 71,000 additional spectators visiting the Hermiston community. The report revealed that, due to the district's ability to recruit and host events such as regional and state playoffs, AAU basketball tournaments, youth wrestling events, and numerous other activities, the Hermiston School District was able to generate over $4.0 million and 44 jobs as a result of its accommodating infrastructure.
Addressing the Board of Education, Deputy Superintendent Wade Smith noted the following. "This report provides us quantifiable data of what we all witness on the weekends HSD hosts events such as AAU tournaments or state playoff games in any one of our outstanding venues," said Deputy Superintendent Wade Smith during a recent Hermiston School Board meeting. "The improvements made to our facilities in 2008, Kennison Field, and our staff, who continue to be great hosts and welcoming to outside constituents, have provided an economic engine for our community that you would be hard pressed to find anywhere else in the state."
According to the report, over the next nine years, Hermiston School District will generate nearly $55 million in total economic impact to the Hermiston community, as a result of its ability to recruit and host external events.
Following the review of the report by Smith, Hermiston School District Executive Director of Operations Mike Kay presented anecdotal information regarding the District's ability to play host to a number of outside parties.
"Prior to the improvements made via the 2008 bond, Hermiston was able to host one AAU tournament, which brought in 30 teams to our community," said Kay. "This school year alone, we hosted 124 teams in January, and we hold four tournaments a year with an average of 110 teams per tournament."
Kay relayed a story from the owner of a local dining establishment, who shared that the business was able to make enough money off of one AAU tournament weekend to support its fixed costs for the entire fiscal quarter.
For more information, go to the district website Reports page.