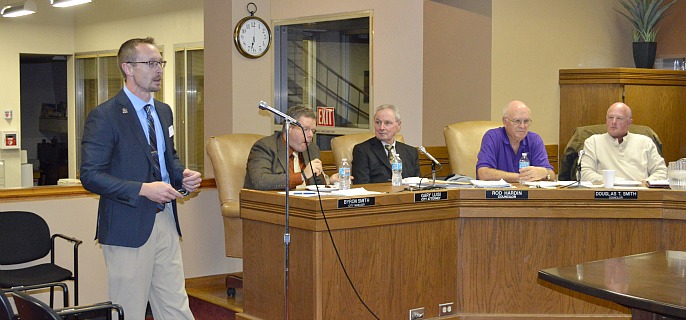 When the newly-refurbished Hermiston High School opened in 2001, there were 1,100 students filling the classrooms. Today, the school is at its maximum capacity of 1,600 students and population forecasts indicate the issue of overcrowding will continue in the coming years.
Hermiston School District Deputy Superintendent Wade Smith told the Hermiston City Council Monday night the district is facing three issues that need to be addressed: growing student population, aging school buildings and safety concerns.
Smith told the council that population projections show the high school will have as many as 2,000 students within the next eight years. He said the district is currently using as many as 24 modular buildings to house students because current classrooms are full. The district plans to utilize six more modular buildings next year in the high school parking lot.
A long-range planning committee presented the district with a report that shows the district is in need of $131 million in new infrastructure. The district, however, does not believe the community is willing to support a bond measure with that high of a price tag. A citizen review panel has been set up with members tasked with taking a closer look at the district's needs and to determining how much money the public is willing to spend to address the three key concerns of the district.
"We are starting that conversation with the community," Smith said. "We have some significant challenges and we have to prioritize. I don't think the community can stomach a $131 million bond measure."
Smith provided some history of the previous school bond measure that passed in 2008. At that time, a panel recommended a $105 million bond measure to replace the district's three oldest schools (West Park, Sunset, and Armand Larive), as well as build a new elementary school. At that time, it was evident the public would not support a bond measure at that level, so the district opted for a $69.9 million bond to replace the three oldest schools, but put off building a new one.
Fast forward seven years and the overcrowding problem has only increased and the several schools have reached the point where they may have outlived their usefulness. Rocky Heights is 53 years old, Highland Hills is 35 years old and Sandstone Middle School is 20 years old. Security risks exist within the older schools. For example, Highland Hills Elementary School has more than 60 ways people can enter or leave the building – for from an optimal safety design.
Smith said the district will wait to see what the citizen review panel recommends, but he expects some sort of bond measure to come before voters in May of 2017. For more information, visit the school district's website.