Hermiston School District announced today that Brad Bixler has been named the Highland Hills Elementary School permanent principal. He has served as the school's interim principal this year following the late-spring resignation of Brian Schimel, the former principal.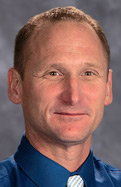 "Although it is customary for HSD to re-post and interview for the permanent position, Mr. Bixler has proven himself an exceptional candidate during his interim assignment," said Hermiston School Superintendent Dr. Fred Maiocco. "The board and administration are extremely impressed with his skills and effective leadership. We believe he will continue to provide the kind of support and stewardship so necessary to ensure continued success at the school."
Bixler has been in education since 1988. He was appointed Pendleton High School assistant principal in 2008, the position he has held for the last five years.
Prior to his appointment, Bixler spent seven years as a fifth-grade teacher in Pendleton School District. His educational experience includes elementary school teacher, technology coordinator, and middle school/high school math and science teacher.
"With Mr. Bixler's leadership, the efforts of our outstanding staff and faculty, and in cooperation with our students and greater HHES community, we are confident that HHES will continue to excel," said Maiocco.