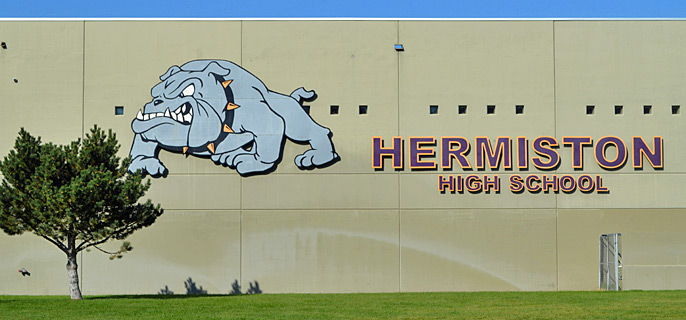 Hermiston School District Superintendent Dr. Fred Maiocco announced today that Armand Larive Middle School Principal Tom Spoo will serve as the next Hermiston High School principal.
Spoo will succeed Jocelyn Jones, who announced her retirement effective the end of this school year.

"I believe Principal Tom Spoo is an absolutely great fit for HHS," said Dr. Maiocco. "He has the requisite administrative experience and character to lead continued improvement at the school."
The district had announced last month that it had narrowed its list of finalists down to two – Beth VanderVeen from Everett, Wash., and Joseph Harris from Tennessee. The two visited Hermiston earlier this month for interviews and to meet the staff and public. Instead, however, Spoo will take the helm at HHS.
Spoo previously taught welding and then served as assistant principal at HHS, prior to his appointment as principal of Armand Larive.
"I look forward to working with the Hermiston High School staff and students on the task of 'chasing down premier'," said Spoo. "I am extremely grateful to the Armand Larive staff and students for the valuable experiences and memories from the past four years. I have grown both personally and professionally during my time at ALMS."

With the promotion of Spoo, Armand Larive Assistant Principal Stacie Roberts will step up as ALMS principal for the 2015-16 school year.
"Assuring continuity and support for Armand Larive is imperative," said Maiocco. "After her strong showing in the Rocky Heights Elementary School principal interview process and proven track record for success, I believe Ms. Roberts to be a great fit for the ALMS principal position."
Roberts was initially hired as a sixth grade teacher and moved into administration after 11 years, when she was appointed Armand Larive dean of students. She has served as ALMS assistant principal for two years.
"I feel honored to continue my partnership with the Armand staff, students, and families in building on our current successes," said Roberts. "I value the relationships I have built over the past five years at Armand and look forward to what the future holds."
Armand Larive Middle and Hermiston High schools will each have assistant principal positions open for next fall. Both selections will include a full job announcement and interview process, with staffs at both schools participating in the process. Internal and external applicants are invited to apply for these openings.