A Hermiston man was arrested on New Year's Day after allegedly causing a disturbance inside a local business and challenging customers to fight.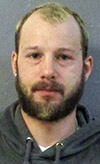 Officers from the Hermiston Police Department were called to the 800 block of S. Highway 395 around 8 p.m. Upon arriving, officers were told that Adam Hansen, 30, of Hermiston, was causing trouble and making graphic sexual remarks toward women in the business. After refusing to leave, customers had dragged Hansen outside.
According to HPD Lt. Randy Studebaker, when officers tried to detain Hansen, he advanced toward them in what they perceived to be a combative manner, as if he intended to fight. The officers warned Hansen they were going to use a Taser device if he did not comply.
Studebaker said Hansen began to cooperate rather than get zapped. Hansen was taken into custody without further incident. Studebaker said the officers did not use their Taser or any other type of force, and there were no injuries to anybody involved.
Hansen was taken to the Umatilla County Jail on charges of disorderly conduct and harassment. He was also arrested on three outstanding warrants – unrelated to this incident – for failing to appear in court.