Dixie Ann Estes died on April 21, 2013 in Umatilla at the age of 44.
She was born on Sept. 25, 1968 in Truckee, Calif., to Hiram and Dixie Pritchard Williams.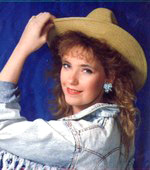 Dixie was raised and attended school in Truckee, Calif., and lived there until getting married and moving to Oregon. She has lived in the Umatilla-Hermiston, Oregon area for the last 23 years. Dixie had worked as a care giver for many years. She was an avid collector of Lucille Ball memorabilia. Dixie loved pets and would take in any stray she found. She had a special bond with her dog, Milly, her constant companion. She was loved by all and will be sorely missed, especially by her family. Dixie loved spending time with her grandchildren, and she enjoyed fishing. She will leave a big hole in her daughters' hearts.
She is survived by her daughters: Heather & Jessica Estes, both of Hermiston, OR; grandchildren: Myleigh Virgil, Carly Virgil, Matthew White, & Bryan Virgil; brothers: Monty Williams(his wife Joanne) & Benny Garcia; sisters: Sandy Garcia & Deana Puha; aunts: Bobby Lehr & Eula Robbins; nieces: Mandy Garcia Colafrancesco, Clare Garcia, Nonie Gallaway, Tara Goldman, & Brianna Williams; nephews: Bryon Garcia, Micheal Garcia, Christopher Garcia, Jason Selph, Matthew Selph, Tony Tieri, Andrew Marzolino & Steven Williams; great nephews: Chase Williams & Mason Marzolino; numerous cousins.
Dixie was preceded in death by her parents.
A celebration of life service was held on Saturday, April 27, 2013 at Burns Mortuary Chapel, Hermiston.
Those who wish may make contributions in her memory to a memorial fund at Burns Mortuary P.O. Box 289, Hermiston, OR 97838.
Please sign the condolence book at burnsmortuaryhermiston.com
Burns Mortuary of Hermiston is in care of arrangements.