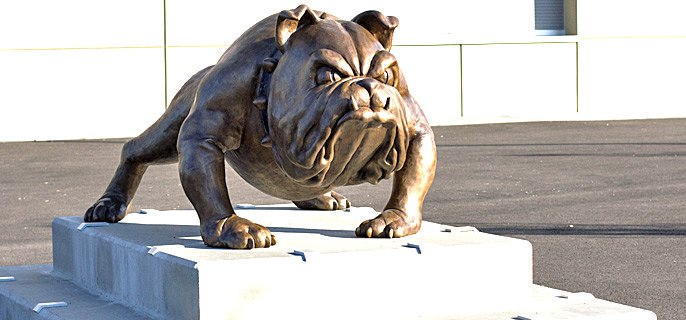 Amidst the bustling homecoming activities taking place at Hermiston High School during the week of October 14, a different commotion was taking place in the plaza of the newly-renovated Kennison Field Complex – preparations and installation of a larger-than-life bronze bulldog perched atop a two tier pedestal.
The almost six-foot long and four-foot tall bronze monument, weighing in excess of 400 pounds is the result of additional private donations and in-kind support pledged around late fall, soon after the Kennison grand opening.
"We had a few people express the need for such a landmark at our new complex.," said Wade Smith, deputy superintendent. "Much to our surprise, within a few days, anonymous donors and local contractors stepped up to the plate to make it happen."
The bronze bulldog statue, identical to one commissioned by the US Marine Corps for their Devil Dog Mascot, serves as the finishing touch to the new complex.
"This monument serves as a tribute to the community's efforts," said Smith. "Without the unwavering financial and donated support, we would not be here today celebrating this achievement."
The bronze bulldog was made possible through contributions from Knerr Construction Co., Ross-Brandt Electric, Platt Electric and two anonymous donors.