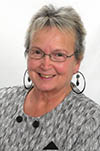 Doris Rachel Buie passed away on Nov. 20, 2021.
She was born on March 30, 1941 in Spokane, Wash. to George Edward Buie and Lorraine Blanche Monfils Buie.
She grew up in the small towns of Kettle Falls and Northport, Wash. until she was 12, then she moved to the large metropolis area of Los Angeles, Calif. and lived in the San Fernando Valley.
She married Garrick Youngberg right out of high school and had two children, Gary and Donna Dee. They later divorced. In 1974, she married Darrell Gossett and they had a son, Darren. Later in her life, she was married a short time to Lester Wilcox.
Doris is survived by her brother, Edward Buie; her children, Gary (Bonita) Youngberg, St. Helens, Donna Dee Youngberg Hulse (Craig), Irrigon and Darren (Nichole) Gossett, Victor, Mont. Doris was known as Grammee to 14 grandchildren, 15 great grandchildren and many other children who loved her and called her Grammee.
She was preceded in death by her parents; sister, Margaret Hosken Cormier; brother, Milton Beach; and former husbands, Darrell Gossett and Lester Wilcox.
A memorial service will be held at 1 p.m. on Friday, Dec. 3, 2021 at Burns Mortuary Chapel, 685 W. Hermiston Ave.
Doris wanted to be cremated, and her ashes will be buried at Umatilla Cemetery.
Her daughter wishes to thank Guardian Angel's Memory Care Home and Vange John Memorial Hospice for their kind and gentle care they gave to her throughout her stay and in the final months at the facility.
Those who wish to make a donation in her memory may do so to the Alzheimer's Association.