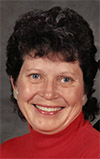 Doris Ann Florence Hooker McGinness passed on Dec. 16, 2022 at her home in Hermiston at the age of 81.
Doris was born on May 17, 1941 in Canyon City, Colo. to Thomas Florence and Dorothy Perkins Florence.
Her family moved to Oregon when she was 5 years old and she attended school in Stanfield. She married Richard "Dale" Hooker on Aug. 10, 1956 in Stanfield and after a brief time in the San Francisco Bay area, they settled on a farm in Hermiston. Doris worked at Hinkle Hotel from 1966 to 1972. From 1972 to 1974, she lived in Reedsport and worked at a Winchester Bay fish cannery. Doris lived in Weston from 1974 to 1978, working at the Lamb Weston plant there. In 1978, Doris moved back to Hermiston and worked at the Persimmon Tree and J.R. Simplot Company. From 1982 to 1992, Dale and Doris farmed in Boardman and provided care for 89 foster children. In 1992, when Dale passed, Doris moved back to Hermiston and provided respite care for disabled and elderly patients for a number of years. She lived in Hermiston for the remainder of her life. Doris was married to Mack McGinness from 1996 until he passed in 2005.
Doris was a good listener and had a great sense of humor and a kind heart. She cared for others and loved spending time with her family. She was an avid gardener and enjoyed having a yard of beautiful flowers.
Survivors include her children, Karla Denney of Waycross, Ga., Tom Hooker and his partner Robin Powell of various locations, and Joni Hugill of Pendleton; her grandchildren, Melissa (husband Brian) Ketelson of Irrigon, Daniel Denney (wife Crissy) of Waycross, Ga., Kraig Carter of Benton City, Wash., Keith Carter (wife Breanna) of Benton City, Wash., and Thomas Denney (wife Kari) of Waycross, Ga.; her great grandchildren, Alexa and Riley Ketelson, Rylee Turk, Tinley Foster Hugill, Kenzi Carter, Caius Denney, and a Carter and a Denney baby coming soon.
She was preceded in death by her husbands, Richard Dale Hooker and Mack McGinness; her parents, Dorothy Perkins Florence Berry McClain and Thomas W. Florence; her brothers, Bill and Bob Florence; her sister, Violet Rachor; her son-in-law, Gary Hugill; and her granddaughter, Misty Rogers.
At her request, there will be no funeral services.
In lieu of flowers, please send donations to the Vange John Memorial Hospice education fund, 645 W. Orchard Ave., Suite 500, Hermiston, Ore., 97838.
To leave an online condolence for the family, please go to burnsmortuaryhermiston.com.
Burns Mortuary of Hermiston is in care of arrangements.