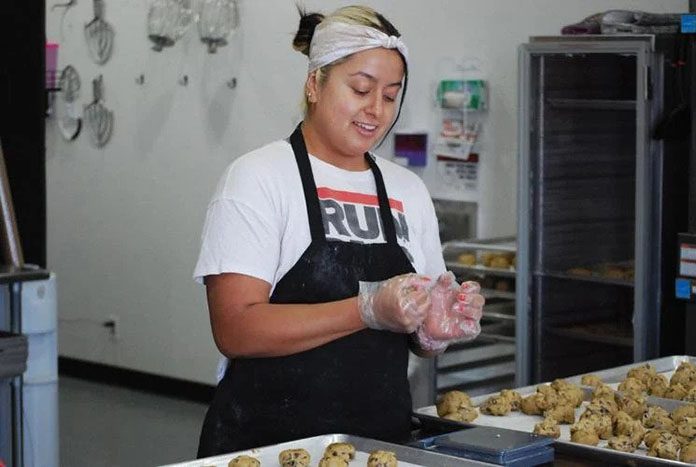 In the brief time Dough Cookies in Hermiston shut its doors, owner Steph Thompson realized she wasn't quite ready to let go.
She used to own the company with her sister-in-law, Kylee Ransom, but the two decided to try to sell the business.
After closing Feb. 3, Thompson began to have second thoughts.
"I just felt like there was so much hard work that went into it, I wanted to kind of keep going with it," she said. "Mostly carry it on for our kids, and maybe one day they'll work at the store here, too, and it'll carry on in the family."
Thompson is now the sole owner of Dough Cookies.
"It's also a challenge because we're not easing into it this time," she said. "Before we were doing it from home and delivering, we were able to start way slower and on a smaller scale."
The owner said her customers have welcomed her back.
"It's been really cool to see that there's this undying support still within the community to make sure we stay this time," she said. "Like everyone says, 'Please don't leave again,' So it really does give you the motivation."
The two originally sold their cookies out of their homes, but moved into a brick-and-mortar location at 405 N. First St. in November 2020. At the time, their plan was to simply sell cookies, but now Thompson has set her sights on other delicacies for the menu.
"An item I'm excited to bring in is German pancakes made to order," she said. "But we're waiting to make sure we have the staffing for that and to make sure we can really make it a seamless production. I was hoping to have breakfast items eventually. I would love to open even earlier so that we can have our patrons that go and want a snack."
She said she also would love to have a dining space for her customers.
"If we'd be able to expand our unit or get a bigger one, I'd love to pursue that," she said.
Thompson said her customers' support has been impactful, shaping how she sees the Hermiston community.
"It's so very rare you feel supported by everyone. It's been a really great way for me to get to know and get to enjoy the purity of this town," she said. "If there's a takeaway from moving from a big town to a small town, it's the fact that you'll never feel like it's your home unless you make it your home."
Thompson moved to the Hermiston area 10 years ago, coming from Spanish Fork, Utah, a city of nearly 44,000 people.
By reaching out and engaging with the community around her business, Thompson has won her patrons' undying support.
"I have always loved how this town supports new businesses, though I was scared about reopening," she said. "I wasn't sure if we'd get the same level of support."
Thompson believes small businesses can add diversity to the community, something she feels is greatly needed.
"And I love that my daughter can grow up and be around a lot of Hispanic cultures here," she said.
"There is culture in this town, believe it or not. There's more to it than rodeos," she added. "I love seeing someone out on the corner selling fresh fruit, stuff like that adds culture to a town."
One of the key challenges Thompson's faced since reopening is balancing her home and business life.
"If I didn't have kids and own this business," she said, "I think it'd be a very different experience."
Thompson navigates Dough Cookies' hours around her children's daily school schedules.
"I feel like right now, just getting started, is the part where I need to be fully, fully involved," she said. "And then from there, I have full faith that my employees will be able to kind of keep it consistent.