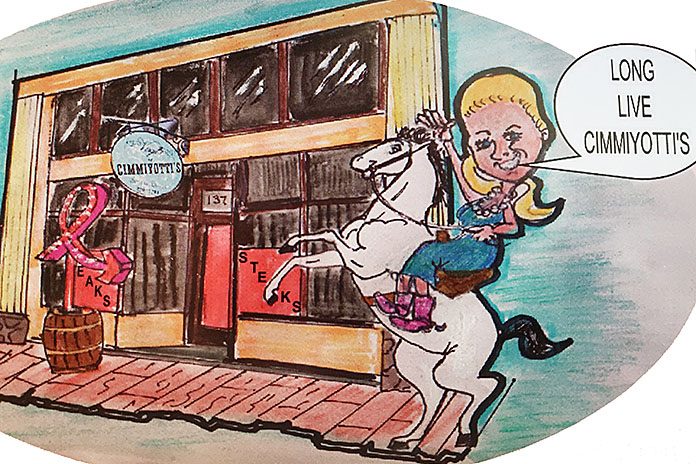 The year 1970 was marked by many things that became part of the fabric of the United States. Scientists brought the damaged Apollo 13 spacecraft safely back to earth, the Beatles announced their break-up, the Ford Pinto was introduced and the Vietnam War raged on.
Closer to home, a young woman was determined to break into the all-male tradition of painting the town for Round Up, not realizing that her window cartoons would become part of the fabric of the iconic event. This month, Laurie Doherty marked her 50th year bringing life, color, and humor to Pendleton through her artwork. With Round-Up canceled to keep community members safe, the occasion is being marked not with window paintings, but with a downtown-wide exhibit that celebrates her accomplishments.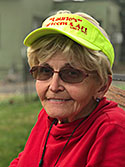 Doherty moved to the region in 1965. She grew up in the uranium mining industry with her mom and brothers, the family following their father's job as a "wildcat" miner. She spent most of her youth in the remote small towns of Colorado and Utah. Money was extremely tight for the family and it was feast or famine. Their dwellings often consisted of miner's cabins, and as a young girl she decorated the walls of their living quarters, invented toys, games and drew cartoons. She attended twelve different schools, but during her junior high years, one special teacher recognized her artistic ability and encouraged her for three months before the family pulled up stakes again. She continued to teach herself and perfected her cartoon art by trial and error. She adopted her mother's quote as a mantra; "If you want it, imagine it."
When she got to Pendleton she met "Big Tom" Simonton, who was already the established window artist for the area businesses. Window art served two purposes. It promoted products or services of the specific business and it celebrated the Pendleton Round-Up's arrival in September. Doherty credits Tom with teaching her some techniques through observation. They were competitors who learned to work together. They came to an understanding that there was enough work for both of them.
Doherty was the first female artist to "break into the all-male tradition" in the rodeo town of Pendleton. She earned enough money to supplement her household income to support her three young sons. Her persistence paid off.
"The window paintings Laurie's done for our local businesses over the years are as much a part of Round-Up as the Mounted Band and the Cowboy Breakfast," said Round-Up Director Tiah DeGrofft. "I grew up with them. They're iconic and they truly capture the spirit of Pendleton. She did a caricature of me as a princess that I adore!"
The downtown exhibit, designed by a committee of PCA volunteers, includes displays, photographs, Laurie's tools and interpretive information. Many images of past window designs have been reproduced in large scale and are on display in the respective businesses. Sites of larger displays include the former Penny's building and the former Community Thrift Store location next to Zimmerman's True Value Hardware.
"We wanted to give people a safe and fun way to celebrate Laurie and her work," said Pendleton Center for the Arts Director Roberta Lavadour. "People can stroll from one end of Main to the other on both sides, taking detours to the side streets and encounter all sorts of things along the way."
The Pendleton Center for the Arts received funding from the Pendleton Round-Up Association and several local donors for the project. More information is available by calling 541-310-7413.