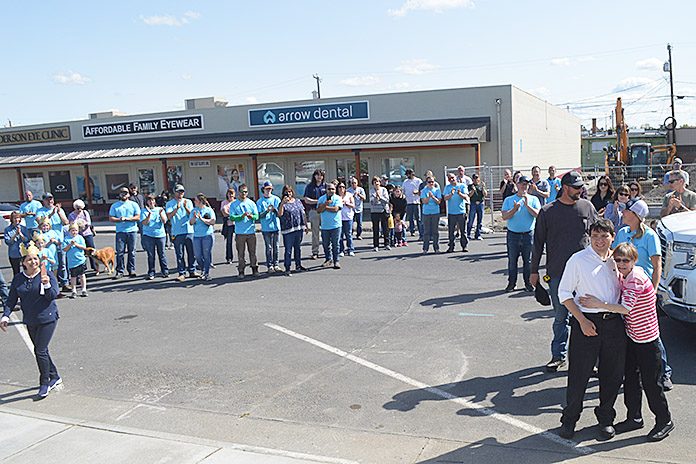 It was quite a homecoming for Heather Spinden and her son, Ben, on Saturday afternoon. And though they were only away for eight days, the home they returned to was all but unrecognizable.
And waiting for their arrival were several dozen old and new friends who filled a block of E. Gladys Avenue. Like a home repair reality show, they were all waiting for the "big reveal." While Heather and Ben were enjoying a stay at the Oxford Suites, scores of big-hearted community members were scrambling to finish a complete makeover of the Spinden home – a project that took about six weeks to complete.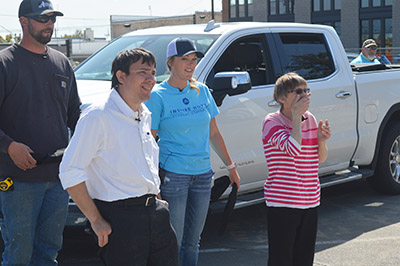 Just after 3 p.m., the Spindens were escorted back home by Holly Woods and Josh Ross, who spearheaded the remodel project. And once the blindfolds were removed, the tears started flowing.
"It's beautiful," said Heather, who, for a while, was at a loss for words. "Thank you, so much!"
Heather Spinden bought the home in 2003. At the time, she was a caregiver to her parents until they passed away. In the ensuing years, Heather, who is legally blind, and Ben, who has autism, have worked hard to pay the bills, but it has been a struggle. Money is tight despite both working full time. Heather has worked at Walmart for nearly 20 years, while Ben is employed at Burger King. They both walk to and from their jobs.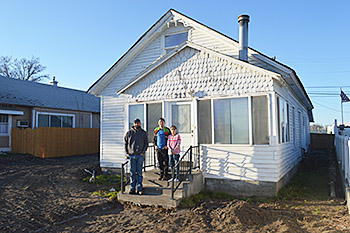 They lost their home insurance in July 2021 when their chimney collapsed. The two hadn't had a family vacation since 2012.
But with the help of Ross and Woods, the Spindens managed to get a temporary insurance policy, but a lot of work was needed on the house. Along with a new chimney, the home needed a new walkway, siding, an irrigation system, roofing, paint and more. The total cost was well beyond what the Spindens had to spend.
That's where countless old and new friends stepped in. Ross and Ben have known each other since elementary school. He said he felt he had to do what he could to help his longtime friends. So, he and Woods recruited dozens of businesses and even more individuals to pitch in and give the Spindens' home a complete makeover.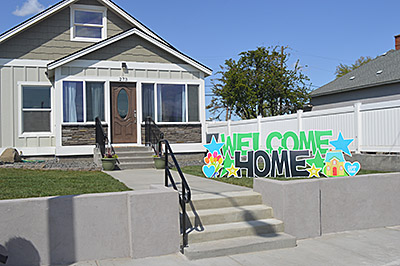 Old trees were removed, cracked concrete stripped out, the old siding came down, a new irrigation system was installed, new flooring was put in, sod was laid, walls were painted, new appliances arrived and much more.
Work was still being completed minutes before the Spindens arrived back home.
"We had about 20 people that put down seven pallets of sod in 45 minutes today," said Dave Dickmeier, owner of Fence Tite Rite. Dickmeier also put in new fencing for the Spinden yard.
"I don't even recognize it," said Heather as she walked among the crowd, giving them hugs. "I think my mom and dad are looking down today."
Woods, a loan officer with Academy Mortgage Corporation in Hermiston, also had tears in her eyes.
"It feels so good," she said. The Academy Mortgage branches in Hermiston and Pendleton helped recruit volunteers to help with the renovation and set up an account for donations which they matched up to $5,000.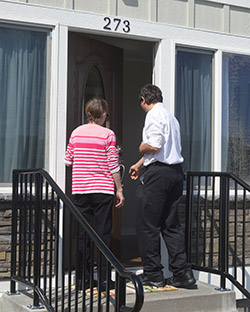 Woods said she was overwhelmed by the outpouring of support and donations during the past six weeks. Hundreds of volunteers took turns putting in time on the project.
"We had day shifts and night shifts with some groups working until 10-11 p.m.," she said.
Dickmeier said he was particularly impressed by the number of young people who stepped up to help.
"For a lot of them, donating money or equipment is a big ask," he said. "But what they do have is energy. They definitely have that. It's nice to see the torch being passed to the younger people."
Neither Heather nor Ben could pinpoint their favorite part of the renovation. "Everything!" said Heather.
"It's a complete transformation," said Ben. Among those turning up for the reveal on Saturday was Mary Lou Martin, general manager of the Hermiston Burger King.
"I'm so happy for you guys," she said as she gave a hug to Ben and Heather.
For the crew of volunteers, Saturday was the end of a project of the heart. For the Spindens, it was the beginning of life in an essentially new home and the realization of how wealthy they are when it comes to friends.
"It means so much to live in such a special community," she said.