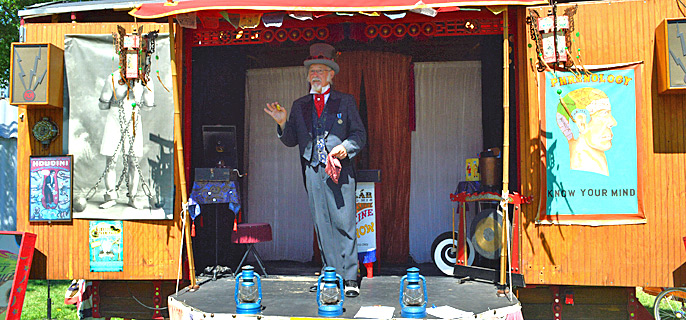 There's more to Terry Robinson than meets the eye. The performer, who goes by the name Dr. Solar, is entertaining crowds this week at the Umatilla County Fair with his Good Time Sunshine Medicine Show.
You'll find more than just entertainment in his old-fashioned medicine cabinet. Dr. Solar also prescribes a little education to his audiences, a mixture he calls "edu-tainment." His message is to embrace solar energy, hence the stage name. He says he had one of the first solar energy homes in the United States, powered by 100 percent passive solar energy.
During his shows at the fair this week, Robinson entertains while providing a little history of green energy. He's assisted by his partner, Ducky O'Neil, a dummy Robinson works with during the ventriloquism portion of his show. Ducky, it seems, is more interested in girls than green energy. In the audience were the Umatilla County Fair Ambassadors and Ducky kept his eyes on them throughout the show.
"I'd like to sneak off to the Ferris wheel with them," Ducky admitted.
Robinson got his start as a ventriloquist when he was in grade school, entertaining faculty and students. He was further inspired by watching ventriloquists such as Jimmy Nelson on the Texaco Star Theater TV show hosted by Milton Berle. He kept is act going until his early 20s when he married and had kids and went to work as a graphic artist and silk screener.
But the show business bug never went away. In 1997, while in Fresno, he saw an ad in the phone book for a magic shop. While in the shop, Robinson heard there was a ventriloquism convention in Las Vegas.
"I said to myself, 'Oh, man – I gotta go there.' That re-lit the spark for me," he said. It was around that time that he first started formulating plans for his Good Time Sunshine Medicine Show with its message of conservation. During his act, he talks about the uses of energy throughout history. From whale blubber to crude oil, eventually humans will use up what they have, he says. After his show, Robinson talked at length about his passion for solar energy. He used to invite friends to his home and demonstrate how all his appliances were powered by solar energy.
"When my demonstration was done, I'd say, 'This show was brought to you by the sun.'"
Robinson performs about 250 times a year as Dr. Solar, but surprisingly, he finds fair organizers, particularly in California, reluctant to book him.
"California's idea of a fair attraction is food," he said. He's found better luck outside the Golden State. He recently performed at the Benton County Fair & Rodeo in Corvallis and is enjoying his time this week in Hermiston. When he's done here, he'll head back to his home in Sacramento where is will put the finishing touches on his solar-powered RV that he will then use to travel around to his performances.
The whole family will enjoy Dr. Solar's Good Time Sunshine Medicine Show. After each performance, Dr. Solar invites the younger members of the audience over for autographs and free coloring pages and wooden nickels.
"Let's see David Copperfield pay his audience once in a while," he quipped.
Dr. Solar will be performing on Wednesday at 2, 5 and 7 p.m.; on Thursday at 3, 5 and 8 p.m.; on Friday at 2, 4 and 7 p.m.; and on Saturday at noon, 4 and 8 p.m. In the meantime, visit Dr. Solar's website for more information about his act, and check out the Umatilla County Fair website for a complete schedule of the week's events.