A motorist was LifeFlighted out of the area Tuesday after crashing into a car and then into a building on 11th Street in Hermiston.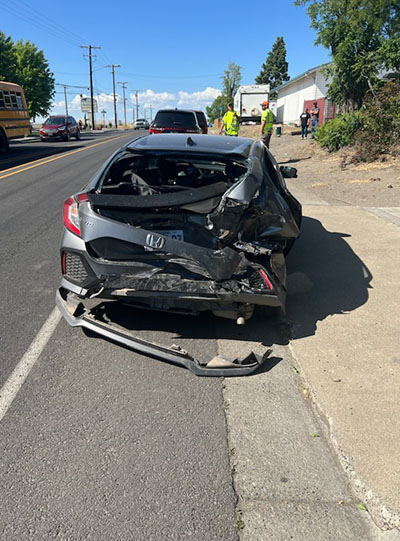 Hermiston police responded to a report of a vehicle crash around 3:38 p.m. near the intersection of 11th Street and Juanita Avenue. Upon arrival, officers discovered Devin Gaytan of Hermiston, driving a 2000 Honda CRV, had crashed into a 2018 Honda Civic driven by Marisol Villarreal of Hermiston and continued across a field and into a parking lot before crashing into Mirasol Family Health Center, 589 N.W. 11th St.
Hermiston Police Chief Jason Edmiston said Gaytan was not responsive and appeared to have suffered an unknown medical emergency.
Villarreal suffered minor injuries but refused medical treatment at the scene.  Both vehicles were towed from the scene, and a dog left in Gaytan's vehicle was picked up by Pet Rescue.  Edmiston said Gaytan was LifeFlighted out of the area but did not know where. The police chief did not know the condition of Gaytan, but said paramedics performed CPR on Gaytan at least twice before LifeFlight arrived.