A set of mismatched license plates led to the arrest and jailing of a man on numerous charges early Sunday morning.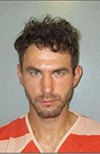 On Sunday, Dec. 6, shortly after 2 a.m., Umatilla County Sheriff's Office Deputy Michael Ellwood attempted to stop a black BMW with license plates that did not match the make of the vehicle, in the area of Bridge Road and Westland Road near Hermiston.
According to the sheriff's office, the driver took off at a high rate of speed eastbound on W. Highland Ave. Ellwood began to pursue the vehicle, but then ended it within seconds due to safety concerns and losing sight of the vehicle.
Ellwood and Deputy Cody Marcum canvassed the area where the vehicle was heading and found it driving near the intersection of S. Townsend Road and Hooker Road. According to UCSO, the deputies activated their overhead lights to try and stop the vehicle a second time. The car sped away and the deputies pursued it for approximately 2.5 miles on county roads. The driver crashed through a chain link fence, and then rolled the vehicle onto the property at 1499 N. Townsend Road. The male driver then ran away.
With the assistance of the Hermiston Police Department and the Umatilla Police Department, the driver was found hiding in the brush approximately 200 yards from the crash site. He was later identified as Jason Michael Garza, 30.
According to the sheriff's office, Garza admitted that he was driving the vehicle and fled because he had just smoked methamphetamine. He also said he had a quantity of methamphetamine in his possession. Garza said he lost control of the vehicle when he reached for his cell phone, which was on the floor.
The deputies located approximately 9 grams of methamphetamine that were packaged in individual baggies, along with a digital scale and $1,517 in cash. Garza was also driving on a suspended license.
Garza was transported to Good Shepherd Medical Center where he was evaluated and medically cleared for injuries. Ellwood transported Garza to the Umatilla County Jail where he was lodged on numerous charges.