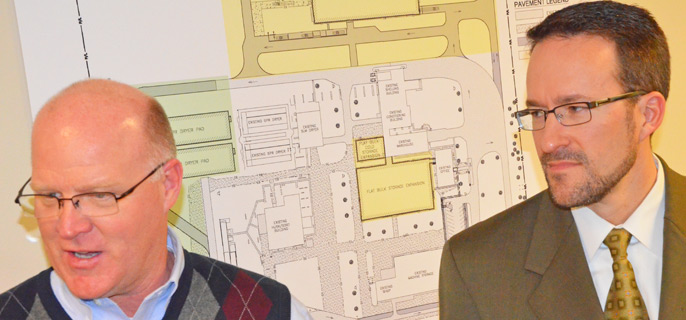 Dupont Pioneer announced plans to increase production capacity at its Hermiston production location. The expansion, expected to be completed in 2014, will double the capacity of the current parent corn and pre-commercial hybrid seed corn facility.
The announcement came during a ceremony held at the Hermiston facility. During the ceremony earthmovers worked nearby to prepare the foundation for the facility expansion, which is expected to cost as much as $32 million.
"We're excited to be growing here," said Les Heeringa, location manager. "This location has the growing conditions necessary for certain products in addition to a very supportive community, which has been vital." The expansion will result in the creation of an estimated 18 new jobs and help Pioneer to deliver corn seed products to customers around the globe.
Pioneer first established a presence with a parent seed production facility in Hermiston in 2009. In March 2010, it further announced plans for a new research facility to focus on trial seed production to advance corn product development and testing efforts for the commercialization of new corn hybrids. That facility, approximately 76,000 square feet of building space on 12.5 acres, was sited next to the Pioneer production plant.
"Pioneer's initial selection and subsequent expansions in Hermiston are a testament to our region's excellent growing climate which accommodates more than 60 varieties of agricultural commodities," said Mayor Dave Drotzmann. "This commitment to expand operations in Hermiston also highlight's our excellent climate for growing businesses which provide these types of good family-wage jobs through collaboration with our state and local partners."
Bill Tomlinson, director of global parent crops at DuPont Pioneer, said the company is pleasantly surprised to be in the position to expand the production plant so soon at Hermiston.
"We're glad to have a presence here, and it has worked out wonderfully from Day One," he said. In short order, employees and growers have put Hermiston on the international seed production map, he said. "I can't even begin to count the countries that the products produced here go to. This expansion is all about growing demand for our product here in the U.S. and around the globe."
Funding for the project includes a performance agreement from the Governor's Strategic Reserve Fund; strategic infrastructure investments from the city of Hermiston; Port of Umatilla; Umatilla County; and an Enterprise Zone property tax abatement from the city and county.
"The DuPont Pioneer expansion in Hermiston is good news for our state, and good news for eastern Oregon's agriculture economy," said Gov. John Kitzhaber. "The new jobs created by this expansion pay far above Umatilla County's current median income."