Pac/West Communications is welcoming a homegrown talent to its Eastern Oregon office with the hire of Whitley Schiller as an assistant account manager.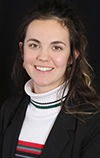 Schiller, who grew up in Hermiston and graduated from Pendleton High School, was a double major at Willamette University with degrees in politics and philosophy, as well as a minor in religious studies.
"Whitley has the ability to navigate complicated issues and conflicting principles while relying on common sense and her own values," said Ryan Tribbett, executive vice president of Pac/West. "She's endlessly curious and is able to look at an issue from all sides. She wants to find the best answer to a problem, not necessarily the easiest answer, and wants to win the right way."
Along with a stint as a legislative intern in the Oregon Capitol, Schiller has worked on construction projects, assembly lines, and in the Office of Community Service Learning at Willamette University.
"I want to deconstruct the stigma around politics and help amplify voices that aren't often heard," Schiller said. "People in Eastern Oregon are hard-working and care about their communities. They're good stewards of the land and conservationists in a way that people in the metro area don't always recognize. Anything I can do to help educate the state about all the good things we're accomplishing out here is worthwhile."
"Pac/West prides itself in being able to represent a wide variety of clients and building coalitions to accomplish many goals at once," said Pac/West President Paul Phillips. "We're always on the lookout for talented and engaged people who bring energy and creativity. Whit does that and more, and we're glad to have her on the team."
Schiller is an avid skier and recreational pianist. She joins account managers Phil Scheuers and Daniel Wattenburger in the Eastern Oregon office at 1050 SW Elm Ave., Ste. 260 in Hermiston.