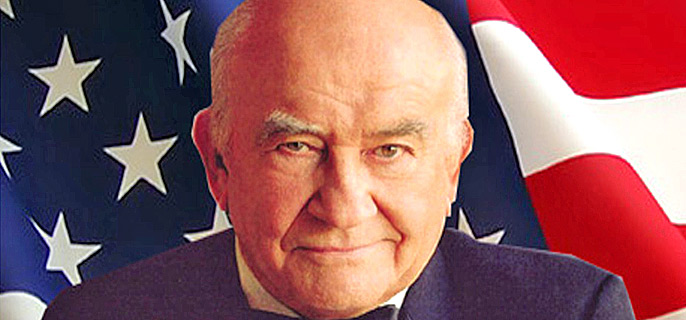 Ed Asner will bring his one-man play focusing on the life of Franklin Roosevelt to Hermiston as the Desert Arts Council gets ready for a new year of bringing the arts and cultural activities to the greater Hermiston area.
"Powerful, provocative and presidential are just a few words audience members will use to describe the upcoming performance of Ed Asner as FDR," said Desert Arts President Mary Corp.
Asner is prominently known to baby boomers for his role as Lou Grant on the Mary Tyler Moore Show, however, within the past five years children of this generation have come to recognize his voice as that of Carl Fredericksen, the gruff and loveable old man in Pixar's Up.
History will come to life as Asner performs the one-man drama, FDR, based upon Dore Schary's Broadway hit Sunrise at Campobello, which ran 70 weeks on Broadway. FDR explores one of America's best-loved presidents, Franklin D. Roosevelt, and events and decisions that shaped our nation. Asner delivers a powerful performance taking us through FDR's White House years including the Depression, the steps leading up to World War II and the war years. Asner shows us why this president was known as "that man in the White House," scorned by many, admired by most, and the only man in history to be elected to four terms as a U.S. president.
This powerful play is a thrilling way to kick off Hermiston's Desert Arts 2013-2014 season on Oct. 15, 2013. The solo performance will be performed on the stage of the beautiful Hermiston High School Performing Arts Auditorium. Doors will open at 6:30 p.m., performance begins promptly at 7 p.m. Tickets are available online at the Desert Arts Council website, at the Hermiston Chamber of Commerce office on Highway 395 and Hermiston City Hall Parks & Rec office. Tickets ($50 adult, $25 child) can be purchased individually, or as a part of Season Ticket packages which are on sale now. Season tickets give the best value, and also help support the arts. Many local businesses and individuals provide support for the arts and make this season possible.
KOHU and The Q are the Title Sponsors for the FDR event.
The presidential performance is just the beginning of a must-see 30th season for the Desert Arts Council. On Nov. 22, be transported to the golden days of music, where rich harmonies, bright smiles and big band became an icon for celebrating patriotism. The Swing Dolls, a fabulous vocal trio, will entertain audiences with their outstanding renditions of songs made popular by the Andrews Sisters and inspired a nation throughout World War II. This tribute to the many men and women who serve our country takes place in the Hermiston High School Performing Arts Auditorium, with doors opening at 7 p.m. and the show revving up at 7:30 p.m. Tickets are $30 per adult and $15 for children.
Back by popular demand, on Jan. 11, 2014, is locally acclaimed Dancing with Your Stars (Tickets $30 adult, $20 child). See Hermiston's own jump, jive, salsa and more with new routines and toe-tapping action. Then, on Feb. 15, the SAGE Center will host Love Letters, a Pulitzer Prize-nominated play. The romantic and elegant evening begins with local wine and beer tasting paired with hors d'oeuvres in the new interactive visitor's center on 101 Olson Road in Boardman. Tour and tasting starts at 6:30 p.m. with the show commencing at 7 p.m. Tickets are $50 per adult.
The final event of the season will be the 10th Annual Hermiston Art Walk on the first weekend in May on Main Street in Hermiston. Visit the Desert Arts Council's Facebook page for updates and more details over the coming 2013-2014 season. For more information call 567-1800 or visit the Desert Arts Council website.