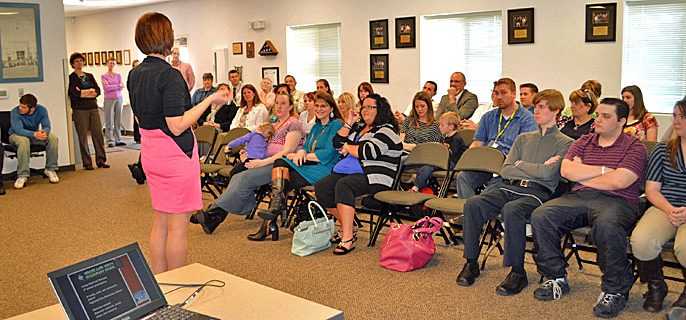 With the price of Apple stock still falling, now might be a good time to invest in the company, because if Hermiston teachers are any indication, classrooms across the country are purchasing iPods, iPads, iTouches and other wireless products as the education field dives head first into the wave of new technology.
That was never more evident than Wednesday evening during a ceremony for the Hermiston Education Foundation spring 2013 grant recipients.
Nine of the 17 grant recipients will use their money to purchase technology-based material for their classrooms, with six of them purchasing Apple products.
For example, Rocky Heights kindergarten teacher Shanna Evans received a $1,000 grant for 14 wireless keyboards for the iPods her classroom already has. The wireless keyboards will help her kindergarten students with their writing and letter identification skills.
"As you can see, we're being pushed up the technology line by kindergarteners," said Karen Sherman, a member of the Hermiston Education Foundation and chairwoman of the grant committee.
Over at West Park, kindergarten teacher Amber Kellison received a $1,000 grant for three iPad minis that will be used in small groups for reading and math centers. Kellison said she can tap into the experience others have in applying the technology in the classroom.
"I've got good resources in other kindergarten teachers who are already using the technology," she said.
Amber Utter, a sixth-grade teacher at Sandstone, will use her $1,000 grant to purchase iPads for her students.
Tracy Hodges, an ELL teacher at Sandstone, and Michelle Gaede, an ELL teacher at Armand Larive, each received $1,000 grants to buy iPad minis to be used for their English language learners.
Not all of the grants awarded are going to hi-tech projects. Taryn Olson, Tracy Tynkila and Lena Seibel, first-grade teachers at Highland Hills, received $500 for their Living History Museum. The money will be used to purchase music, costumes, props and biographies for the students who will portray historical figures at the school's museum at the end of the year.
Cori Applegate and Glenn Stelson, language arts teachers at Armand Larive, will use their $1,000 grant to take their students to the Cavalcade of Authors in the Tri-Cities. The money will provide entrance fees for the students to participate in writing workshops, as well as the purchase of books so the students can learn about the different authors' writing styles and techniques.
The 17 grants handed out totaled $15,900. The foundation awards grants twice a year, in the spring and fall. Click here for a complete list of the spring grant recipients.