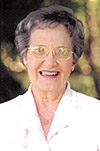 Eileen Rose Sobotta passed away peacefully on Sept. 14, 2021 in Kennewick surrounded by family at the age of 90.
Eileen was born to Mathias and Gertrude Schmidlkofer Hansen on July 28, 1931 in Chewelah, Wash. the fifth of six siblings.
Unfortunately, her father passed away in 1933 from pneumonia, but Eileen was blessed to have a large and loving family, and they were soon moved to the dairy farm of her maternal grandparents, Mathias and Elisabeth Schmidlkofer. She was brought up on the farm with the help of many aunts and uncles and was especially close to her Uncle John Schmidlkofer, who served as a father figure to her after the loss of her own dad. Even though this was during the heart of the depression, Eileen said they were blessed to have plenty to eat thanks to the gardens, crops and livestock that the farm provided. Living on the farm meant everyone pitched in and there was not a lot of leisure time, but Eileen and her siblings didn't need to go far to have some fun when time allowed. They enjoyed exploring the nearby mountain forests and lakes in the summer, and sledding and ice skating were just out the back door in the winter months.
Eileen attended St. Mary's Catholic School in Chewelah from first through ninth grade and Jenkins High School in Chewelah from 10th through 12th grade, graduating in 1949. In August 1950, Eileen married her high school sweetheart, Harold Barnhart, in Chewelah. Within six years they had three daughters and a son. Harold would die in a work accident in 1956 and once again Eileen would turn to her family, who were always by her side for help. Eileen and her four young children moved in with her mother and with the support of their loving uncles and aunts nearby, the family was able to get through this tragedy.
Eileen married Jack Sobotta in 1959 in Chewelah. Jack was working as a pharmacist at the local drugstore, and they would add four more sons to their
family over the next several years. The family moved to Longview, Wash. in 1964 and then settled in Hermiston for the long haul in 1966. For Eileen, Chewelah would always remain a special place to her, and she and her large family would visit often to see Grandma Hansen and Grandma and Grandpa Barnhart, as well as all her siblings, uncles, aunts and cousins, and many fond memories were made during those trips.
Jack and his brother Jerry would come to purchase Hermiston Drug in 1971, while Eileen continued to manage the home front. As Eileen's children grew older, she would help out with the bookkeeping at the drugstore. Eileen was very proud of all her children and was always there to help them, but to never smother them. She would give them the freedom to make many of their decisions and to dust them off when some of those decisions did not work out so well. Along with her faith in God, her family was the most important thing in her life. She and Jack always made sure the family made trips together during the summer. It is amazing to think how many people and luggage could fit in a 1972 Safari station wagon. Many of these trips were to Chewelah or Lapwai, Idaho to visit relatives.
Eileen loved the Oregon coast and enjoyed many vacations to Lincoln City or Newport, often with the Neyman family joining them. Between all the kids in both families, it didn't take them long to clear the pool area for themselves. Later as the kids moved out, Jack and Eileen would take longer trips with relatives. They visited Civil War battlefields, small New England towns in the fall, and a couple of Notre Dame football games to mention just a few. For Eileen, she loved spending her precious free time going for long walks and working in her flower garden. She was an avid reader and was always ready to make a needed repair with her sewing machine. But her most precious time was the time spent with her grandchildren and great grandchildren. She and Jack spent many a chilly evening cheering them on at one of their various athletic events. Jack would pass away in 2015. Besides her family, Eileen had a deep love of her Catholic faith, which was in evidence to her final breaths.
Eileen is survived by her sisters, Margaret Owens of Chewelah, Wash. and Doris Hendrix of Colorado Springs, Colo.; brother, Ed (Kay) Hansen of Chewelah Wash.; daughters, Cheryl (Dan) Riley of Kennewick, Wash., Rita (Dave) Davis of Hermiston and Debbie (John) Tolan of LaGrande; sons, Rick (Nancy) Barnhart of Tigard, Perry Sobotta of Hermiston, Sam (Elisa) Sobotta of Bend, Matt (Davi) Sobotta of Seattle, Wash. and Tom (Heather) Sobotta of West Linn; as well as 19 grandchildren and 21 great grandchildren.
Eileen was preceded in death by husband, Harold Barnhart; husband, Jack Sobotta; parents, Mathias and Gertrude Hansen; brother, John Hansen; sister, Marie Wissink; and great grandchild, Eastin Strebin.
Recitation of the rosary will be at 12:30 and a funeral Mass will begin at 1 p.m. on Tuesday, Sept. 21, 2021 at Our Lady of Guadalupe Catholic Church in Boardman, with burial to follow in the Hermiston Cemetery.
The family would like to extend a special thank you to Sheri, her caretaker while at Fieldstone, and to Chaplaincy Hospice Care of the Tri-Cities. The family would also like to thank Nataliya and her staff at Desert Wind Gardens for the care of Eileen in her final months.
Memorial contributions can be made to Chaplaincy Hospice Care of the Tri-Cities.
Burns Mortuary of Hermiston is in care of arrangements