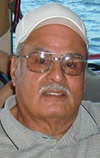 Eloy D. Cuellar passed away peacefully in Hermiston on Nov. 13, 2020 surrounded by the love of his family at the age of 82.
Eloy was born on June 1, 1938 in Derby, Texas to Simon and Esmerejilda (Del Toro) Cuellar.
He grew up and attended school in both Derby and Pearsall, Texas. He went on to marry the love of his life, Magdalena Guevara on Oct. 22, 1955 in Big Spring, Texas. Over the years the couple lived in Texas, California, Washington and Oregon, and finally settled in Hermiston in 1977.
In 1978, Eloy acquired a sheep fertilizer and wood products delivery business he named El Borrego. He would deliver sheep fertilizer in his "big truck," which was a 10-ton spreader truck. He made deliveries to a majority of the fruit orchards in the Hood River and The Dallas area, returning to Hermiston with a load of wood products for the auction yard, schools and personal gardens. He retired in 2018.
Eloy enjoyed hunting, fishing and telling stories about his past to anyone who would listen. He also loved to make smoked fish and jerky for friends and family, but his greatest enjoyment was spending time with his family. His family was the center of his world.
Eloy is survived by his wife of 65 years, Magdalena; his four children, Mario, Susan Cuellar, Janie Cuellar and Rebecca Miller; seven grandchildren, Anthony (wife Betsy), Leila, Alex, Samuel, Jaysa, Gabriel and Selena; three great grandchildren, Isabella, William and Victoria; brother, Jesus Cuellar; and many extended family members.
Eloy was preceded in death by his parents; sister, Anita Fagan; and brother, George Cuellar.
A private family Mass was held (due to COVID-19 restrictions) at Our Lady of Angels Catholic Church.
Burial was in the Hermiston Cemetery.
To leave an online condolence for the family, please go to burnsmortuaryhermiston.com.
Burns Mortuary of Hermiston is in care of arrangements.