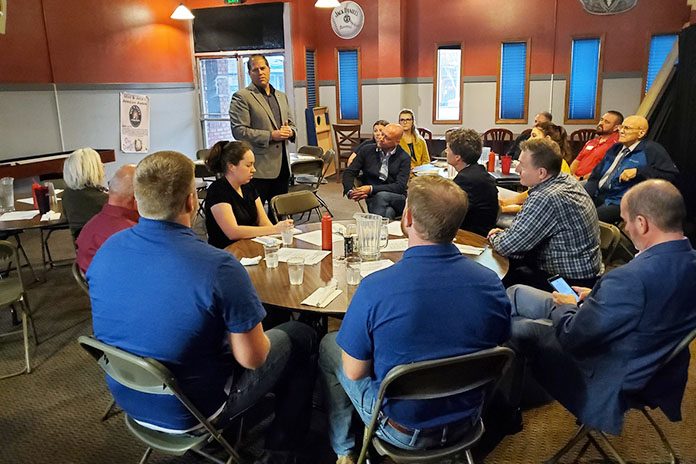 Eastern Oregon University (EOU) officials traveled to the Port of Morrow to meet with business leaders at the port as well as in Hermiston.
EOU President Tom Insko, Vice President Tim Seydel, and Dean of Business, Dr. Ed Henninger, traveled with Small Business Development Center (SBDC) Director Greg Smith.
Port Manager Ryan Neal and Economic Development Director Lisa Mittelsdorf provided an industry bus tour and information about the large businesses and opportunities located at the port. This also included a stop at the Blue Mountain Community College Workforce Development Center with Anne Morter and Jerry McMichael providing a tour.
"We are working to provide experiential learning opportunities for our students and letting them know staying in Eastern Oregon is a viable option for them," said Insko during a business luncheon in Hermiston. "We want to hear as businesses what your needs are, what you feel we are doing right and areas in which we can improve."
Following the luncheon, a tour of Lamb Weston in Hermiston and information about potential internships and employment opportunities were discussed.
"I truly appreciate the chance to interact and network with working professionals and experience first hand the enormous growth, entrepreneurial leadership and potential for long term impactful economic development and prosperity in Eastern Oregon," said Henniger. "Establishing linkages with highly successful organizations, city and county economic development, EOU SBDC and training center personnel aligns well with our College of Business' mission of integrating opportunities for a real-world experience into all aspects of our collegiate business education as a necessary condition for student learning and success in work and life."
Smith said the visit by EOU officials showed their commitment to area students.
"I appreciate business leaders taking the time to share their thoughts on how to expand opportunities for Eastern Oregon University students," said Smith. "EOU is our rural University and its exceptional leaders are paving the way to ensure an even brighter future for students."