Jack Esp of Echo is making another run for a seat on the Umatilla County Commission.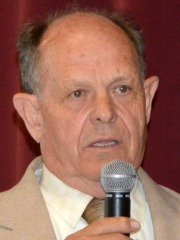 Esp made his announcement after reviewing the 2014 county budget, a document he labeled "irresponsible." Esp will be running against Umatilla County Commissioner Larry Givens.
Esp, who said he would not run for office again after finishing fourth in a six-man race last spring for the commission seat won by George Murdock, changed his mind after reviewing the recently-adopted county budget.
Esp said the commissioners should have budgeted more money for the sheriff's department for extra patrols and for greater utilization of county jail beds.
"This irresponsible prioritization of public funds is unprincipled . . . as it would allow 24/7 patrol coverage in the three-county area," he said. Esp accuses the commissioners of failing to inform Umatilla County citizens why they chose not to increase the sheriff department's budget, despite repeated requests by Esp and Umatilla County Tea Party leaders.
In last May's race for county commissioner, Esp received about 14 percent of the vote.
More Stories From Northeast Oregon Now:
Highway 11 Accident Sends 2 to Hospital
Hermiston Little League Preps for Major Milestone
EOU Aims to Make College More Accessible