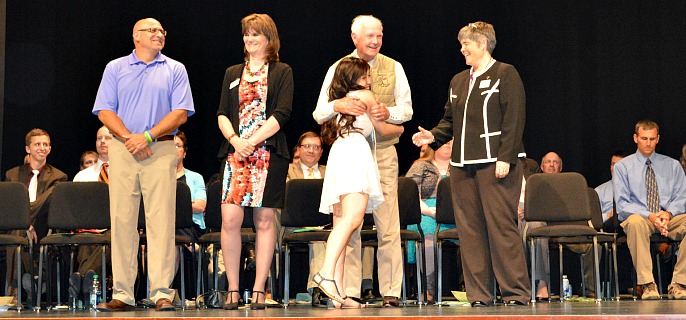 [quote style="2″]Hermiston High School Honors Top Students at Awards Ceremony[/quote]
Hermiston High School honored some of its best and brightest students Wednesday night during its annual Evening of Excellence awards program.
Students were recognized during the ceremony for their academic and extracurricular achievements. Awards were given out to the outstanding student in each department, as well as Honors students, Circle of Excellence achievers and those who completed the Career and Technology Education classes.
Department Award Winners:
Outstanding Agriculture Student: Zachary Vandehey
Outstanding Agriculture Student: Jaycee Ternes
Outstanding Business Student: Jisselle Juliette Garcia
Outstanding Business Leader: Oanh Kim Nguyen
Outstanding Careers & Technology Student: Matthew Rada
Extended Learning Opportunities Student: Morgan Magnuson
Outstanding Construction & Woodworking Student: Travis Hodges
Outstanding Family & Consumer Sciences Student: Adrian Cervantes
Engineering Student of the Year: Jacob Enriquez
Outstanding Student in Language Arts: Riley Mulvihill
Outstanding Student in Language Arts: Allison Rude

Outstanding Math Student: Jared Wright
Outstanding Advanced Math Student: Yosiel Ornelas
Outstanding Metals & Manufacturing Student: Zachary Vandehey
Outstanding Performing Arts Student: Steven Evans-Renteria
Outstanding Performing Arts Student: Riley Mulvihill
Outstanding PE/Health Student of the Year: Cody Kile
Outstanding PE/Health Student of the Year: Jennifer Hallberg
Outstanding Science Student: Matthew Rada
Outstanding Science Student: Anthony Green
Outstanding Student in the Social Arts & Sciences: Arielle Handforth
Outstanding Student in the Social Arts & Sciences: Allison Rude
Outstanding Student – Special Programs: Brian Mitchell
Outstanding Student – Special Programs: Gerardo Rivera
Outstanding Visual Arts Student: Luis Godoy
Outstanding Visual Arts Student: Anthony Virgen
Outstanding Spanish Student: Riley Mulvihill
Outstanding Spanish Student: Kodie Arnold
Students Completing Career and Technical Education Program:
Agriculture, Food & Natural Resource Systems: Justin Fields (Mechanics & Welding); Nychal Gritz (Ag Science); Callie Hobson (Ag Science); Johnpatrick Pederson (Ag Science) Zachary Vandehey (Ag Science, Mechanics & Welding)
Arts, Information & Communications: Mayte Alvarado (Music Instrumental); Megan Borns (Music Instrumental); Elidia Cortez (Visual Arts); Jessica Crane (Music Choral); Caitlyn Dunn (Music Choral); Luis Angel Godoy (Visual Arts, Media Arts); Cassie Hamilton (Music Instrumental); Austin Henderson (Music Instrumental); Savannah Kinswa (Music Choral, Music Instrumental); Mark Thomas LeDay (Media Arts); Denisia Leon Mendoza (Visual Arts); Morgan K. Magnuson (Media Arts); Riley Mulvihill (Visual Arts); Kate Nordquist (Music Instrumental); Taylor Paschal (Media Arts); Chance Lee Pennock (Media Arts); Austin Phipps (Media Arts); Abel Preciado (Music Instrumental); Michaela Rohrman (Music Instrumental); Maria Ruiz (Music Choral); Justin Simon (Visual Arts); Marissa Smith (Visual Arts); Marcos Trujillo (Visual Arts); Kayla Varady (Music Choral); Anthony Virgen (Media Arts)
Business & Management: Patricia Andres (Finance, Marketing); Elizabeth Banuelos (Marketing); Megan Borns (Business Management & Administration); Eric Burkenbine (Finance, Marketing); Adrian Cervantes (Finance, Hospitality & Tourism); Alejandro Cisneros-Arreguin (Business Management & Administration); Hanna Dobson (Finance); Nikita Douglass (Finance); Noah Engelbrecht (Marketing); Miguel Flores (Hospitality & Tourism); Jacob Flyg (Finance); Jisselle Garcia (Business Management & Administration, Finance); Arielle Handforth (Finance); Megan James (Finance, Marketing); Mark LeDay (Business Management & Administration); Diana Lomas (Finance, Marketing); Mariana Macias (Finance, Marketing); Morgan Magnuson (Marketing); Meghan McDonough (Finance); Tristan Mitchell (Marketing); Karen Montes (Business Management & Administration, Finance, Marketing); Kimberly Nevil (Business Management & Administration, Marketing); Kelli Niederwerfer (Marketing); Oahn Nguyen (Finance); Yosiel Ornelas (Finance, Marketing); Hector Rangel (Business Management & Administration, Marketing); Lily Ringe (Business Management & Administration, Finance, Marketing); Natalie Scotto (Marketing); Marcos Trujillo (Business Management & Administration, Finance); Ara Villegas (Finance); Vincent Whitesell (Marketing)
Family Consumer Science & Human Resources: Lysandra Jacks (Human Resources); Marissa Smith (Human Resources)
Health Sciences: Elizabeth Banuelos; McKenzie Byrd; Ashlynn Holwegner; LySandra Jacks; Megan James; Hannah Mabbot; Morgan Magnuson; Kate Nordquist; Johnpatrick Pederson; Alayna Reese; Kimberly Verwey
Industrial & Engineering Systems: Beau Brock (Construction); Jacob Enriquez (Engineering); Justin Fields (Construction); Eduardo Garcia (Construction); Jesus Gonzales (Engineering); Travis Hodges (Construction); Justin Pitzer (Construction); Teonna Raymond (Construction); Jorden Turner (Construction)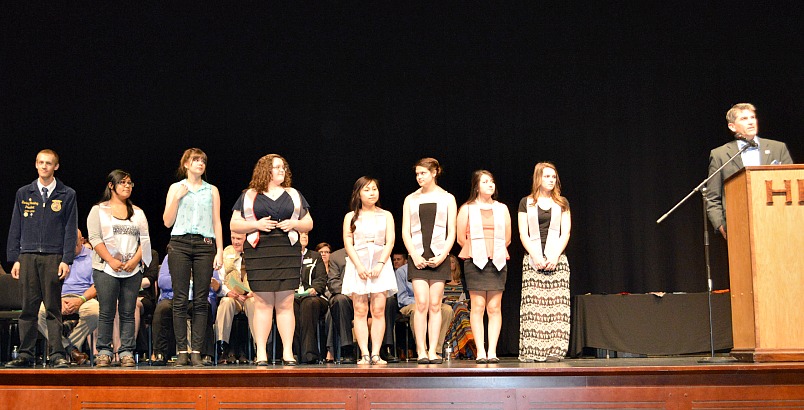 Circle of Excellence Awards:
Megan Borns
Hanna Dobson
Jisselle Garcia
Arielle Handforth
Megan Kane
Mariana Macias
Oanh Nguyen
Zachary Vandehey
Honors Medallion Awards:
Patricia Andres
Megan Borns
Adrian Cervantes
Jessica Dixon
Hanna Dobson
Jacob Enriquez
Jacob Flyg
Jisselle Garcia
Morgan Gibbs
Ray Gillespie
Arielle Handforth
Ashlynn Holwegner
Megan James
Denisia Leon Mendoza
Diana Lomas
Hannah Mabbott
Tristan Mitchell
Katarina Moser
Riley Mulvihill
Kimberly Nevil
Oahn Nguyen
Kelli Niederwerfer
Kate Nordquist
Manuel Quesada
Alayna Reese
Lily Ringe
Michaela Rohrman
Allison Rude
Natalie Scotto
Emily Sexton
Katrina Vander Ploeg
Sara Villegas
Katelyn Winnettu