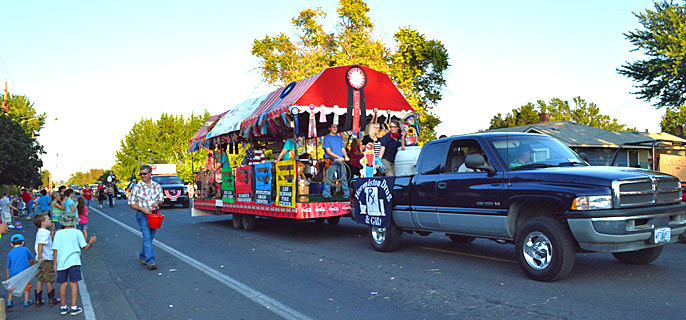 The judging for the Umatilla County Fair Parade could not have been easy, considering there were 151 registered entries, plus another 20 or so that entered at the last minute. Nonetheless, the judges picked their favorites and the winners have been announced.
There was but one lone entry in the youth horse group category, Ropin', Ridin' N Wranglin' so it was no surprise that it won that category, but it also took home the parade's Sweepstakes Award.
Other first-place winners included:
• Antique Tractor: Bliss Family Tractor
• Bands – Adult: Blue Tattoo
• Business – Commercial: Hermiston Drug & Gift
• Church: Templo Abarim Assembly of God
• Commercial – Adult: Bust Bee Childcare & Preschool
• Dance & Drill – Adult: Hermiston Melon Smashers
• Equestrian – Dancing Horses: El Tapatio
• Horse Group – Adult: The Glory Riders of Oregon
• Horse/Mule Drawn: Equine Elegance
• Hot Rod – Race: Hermiston Car Club
• Motorcycle: Hermiston FunRunners ATV Club
• Novelty Kids – Youth: 2013 5A State Champions, Hermiston Youth Wrestling
• Royalty Equestrian: 2013 Pendleton Round-Up Court
• Royalty- Motorized: America's National Teenager Scholarship Organization
• School Bus: Middle Columbia Bus
• Service – Fraternal: Veterans of Foreign Wars (VFW 4750)
• Stock 1950-2010: Echo Rural Fire Department
• Truck: Tom Denchel's Ford Country
• Youth Organizations: Oregon Trail Rider's 4-H Club
Click here for a complete list of all the winners from Saturday's parade.