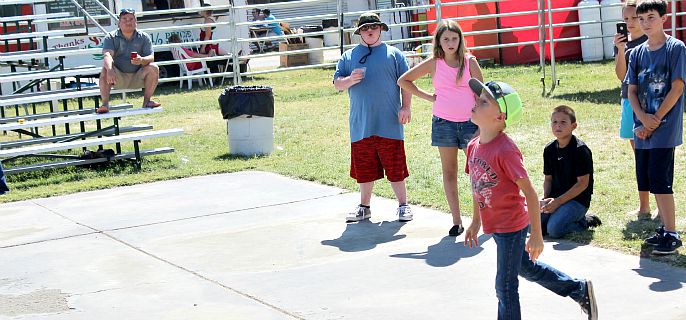 Spitting in public may be forbidden in etiquette books, but Eastern Oregon has one exception to the rule: watermelon seed spitting. The Umatilla County Fair invited one and all to the Coke Stage on Saturday for the annual contest and samplings of Hermiston watermelons.
A half hour before the competition, organizers lined up the playing field, placing red tape to mark each fi-e foot mark along the concrete. They cut watermelon and dropped chunks into plastic cups – each one designated for a competitor to taste the fruit and save the seeds.
More than 30 competitors of all ages took the challenge on Saturday afternoon to compete in four categories: children 7 and younger; youth 8 to 15; women's; and men's.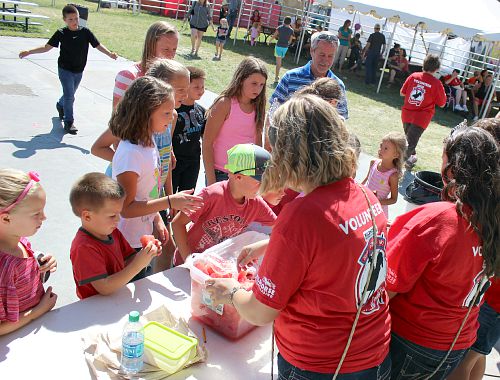 The longest spit for the day came courtesy of Allen Waggoner of Pilot Rock. Waggoner's seed flew and rolled 39 feet and 2 inches – almost off the 40-foot playing space.
"It was fun to participate, and it's great to be involved in the fair," Waggoner said. "Back in Illionois where I grew up, we ate a lot of watermelon, so maybe that gave me an advantage."
Waggoner beat out Pendleton's Don Legore by a mere two inches to take the title and the prizes, which included a County Fair T-Shirt and a Hermiston watermelon.
In the women's division, the watermelon went to Angela Bonzani, of Hermiston, with a distance of 25 feet 9 inches, and Pendleton's Matthew Demianew, 14, won the 8-to-15-year-old division with a distance of 33 feet 11 inches.
Linkin Zamudio, age 6, of Hermiston, took the children's title with 24 feet 2 inches. Holding his prize ribbon, the 6-year-old smiled and nodded when asked if he had fun. The best prize of all for Linkin was beating his older brother, who also competed.