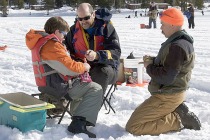 The Oregon Department of Fish and Wildlife will host a workshop showing anglers how to make the best of snowy, icy conditions at a Jan. 30 Family Ice Fishing Workshop on Lake of the Woods near Klamath Falls.
The family-friendly workshop is open to adults and youth. Youth must be at least 9 years old and accompanied by a paying adult.
"If you've never been ice fishing, this is the perfect opportunity to learn how," said Darlene Sprecher, ODFW outdoor skills program coordinator. "The whole family can safely participate and enjoy a great day out on the ice."
The workshop is from 8 a.m. to 4 p.m. Participants will learn all the ice fishing basics – safety on the ice, how to drill a hole, what gear to use and how to use it, and how to clean and take care of their catch. The cost of the workshop is $52 per adult and $12 per child under age 18. This includes the use of equipment, instruction and lunch.
Children under 12 years old do not need a fishing license to participate, but adults must have a valid Oregon fishing license and youth ages 12-17 will need an Oregon youth license. Youth must be accompanied by a paying adult.
For more information about the workshop, and to register, go to ODFW website.
The registration deadline is Jan. 16.