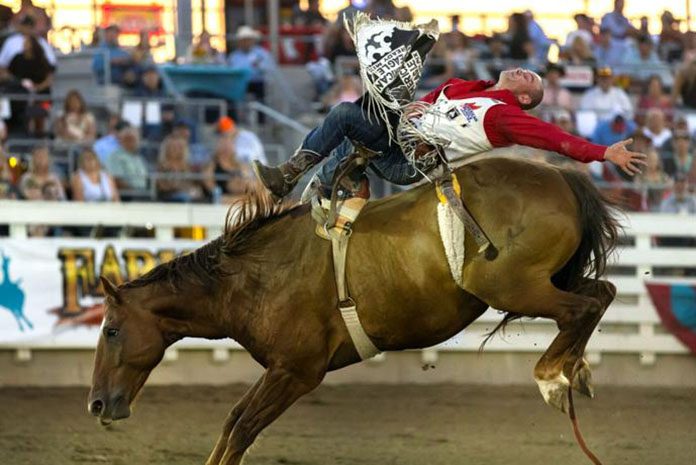 It took Statler Wright a bit to compose himself after posting a 90-point ride on Xplosive Skies to win the saddle bronc event Saturday, Aug. 12, at the Farm-City Pro Rodeo.
The last man out of the chutes, he also had the Coca-Cola Showdown, which would put an extra $500 in his pocket for an 8-second ride.
The Utah cowboy got the 8 seconds, and moved past his older brother Ryder, who scored an 87.5 on the first ride of the night, to claim the title.
"My heart is still leaping out of my chest," said Wright, who won $7,219 for his effort. "That horse is a different kind of animal. That is the most strong and electric bucking horse I have ever been on. This might be the best thing in my life right there."
When Wright found out last week that he had drawn Xplosive Skies, he knew he was in for a battle.
"I watched Ryder on her in Fort Worth, and Stetson at the American," he said of his older brothers. "Once I had her marked out, she nearly blew me out of my saddle. I just had to bear down and go back to the basics."
Ryder Wright finished second and earned $5,535, while his uncle Spencer was seventh ($963).
"The support system with my family is second to none," Statler Wright said. "Ryder was winning this, but he was the loudest person in the arena when I rode. I could hear him across the arena."
Paden Bray, who competed Friday in tie-down and team roping, won the all-around title and a paycheck of $11,867.
Bray and roping partner Brenten Hall were second in the first round and finished eighth in the average. Bray tied for second in the second round of tie-down, and won the average with a time of 15.9 seconds on two head.
Brush Minton, whose dad Casey was a PRCA roper and bull rider, had the hot run of the night in tie-down roping at 8.9 seconds, and finished tied for sixth in the average with a time of 17.8 seconds on two head.
"It's been a good year, overall," Minton said. "It's been a little tough the past three weeks, but I changed my horse and I hope to get back to winning again."
Asked if he had thoughts of getting on a bull, he shook his head no.
"I'm not ballsy enough to get on those guys," he said.
Dean Thompson opened the FCPR action Saturday night with an 87-point ride on Agent Lynx to win the bareback title.
"When I found out I had Agent Lynx, this rodeo couldn't come fast enough," he said. "It's one of the top four horses you want to get on. I knew I had a chance on her — it's pretty cool to come out on top. This is my first time here. I went to a lot of rodeos last year, but not Hermiston. I'll be back."
Thompson, who is 20th in the world standings and fifth in the rookie standings, said the $4,124 he earned Saturday should move him up a couple of spots in the standings.
"It's a tough game," he said. "Every dollar counts."
Two-time world champions Kaleb Driggers and Junior Nogueira looked every bit the champions they are in the team roping Saturday night. The pair roped their steer in 5.7 seconds for the top run of the night, and won the average with a time of 10 seconds on two head. They also won the FCPR team roping title in 2021.
"We have been roping together for five or six years," Nogueira said. "We know each other well. I worry about my job and I know he will do his. I want to thank the committee for putting this great rodeo together."
Travis Munro had a bit of a runner on his hands in the steer wrestling, but he was able to turf his steer in 3.5 seconds to win the performance and place fourth in the second round.
"A good atmosphere helps out a lot," he said. "This is my first time here and the crowd was great."
With only two qualified rides in the bull-riding heading into the final night, Jordan Spears knew a good ride could mean a decent paycheck. He was not wrong.
He earned a score of 86 points on the back of Good Whisky to split the title with Luke Mast. Each man earned $7,374.
"That's a great bull," Spears said. "It's always good to see him next to your name. You have to take advantage when you draw the good ones."
Barrel racers Stevi Hillman and Halyn Lide turned in runs of 17.12 seconds to tie for fourth and earn $3,344, while Andrea Busby's time of 17.13 seconds put her sixth, good enough for $2,229.
It was a tough night for the breakaway ropers. Four missed their calves, and one broke the barrier. Erin Johnson had the top run of 2.9 seconds, and while that did not put her in the money for the second round, she finished ninth in the average with a time of 5.9 seconds on two head and picked up $483.