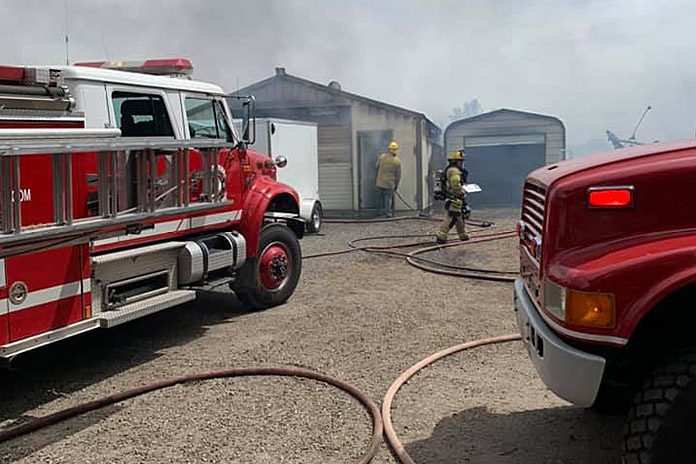 High winds, heat and low humidity made life difficult for firefighters battling a fast-moving grass fire in Hermiston Wednesday afternoon.
Just before 2 p.m., Umatilla County fire District #1 was dispatched to a large grass fire in the East Punkin Center area. Incident Commander Scott Goff arrived on scene to find several outbuildings at two locations also on fire. He immediately called for assistance from mutual-aid resources.
"The weather was not in our favor with 93-degree temperatures, low humidity, and winds of 22 mph with gusts to 33 mph," said Fire Chief Scott Stanton.
Stanton said initial engines protected residences and began suppression of outbuildings and other property.
Firefighters were able to save two residences, but four outbuildings, two mobile-type buildings, four vehicles, one UTV, corrals and other miscellaneous property were lost. Stanton said seven acres of grass and brush burned. Forward progress of the fires was controlled about 90 minutes later.
Six departments provided mutual aid, including Echo Fire, Umatilla Rural Fire, Boardman Fire, Pendleton Fire, Pilot Rock Fire, and East Umatilla Fire and Rescue.
Stanton said about 50 firefighters fought the fires. The cause is still being investigated.
UCFD1 wants to remind folks that burning season was closed on June 1.