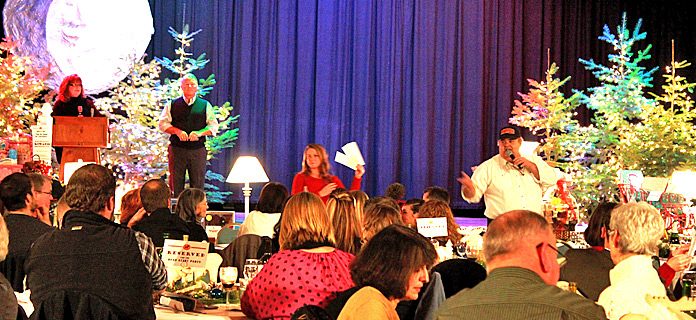 The 19th annual Hermiston Festival of Trees raised more than $15,000 for two local nonprofit organizations in auction bids alone Saturday night. The event continues today at the Hermiston Conference Center with family activities from noon to 4 p.m.
An annual two-day event, the Festival of Trees benefits the Good Shepherd Community Health Foundation and Hermiston Kiwanis Breakfast Club.
CLICK HERE FOR FESTIVAL OF TREES PHOTO GALLERY
"It's going to a good cause here tonight," emcee Angela Pursel said Saturday night. "This money all goes into the community."
The festival opened with its dinner and auction on Saturday, unveiling dozens of decorated trees, wreaths and stockings, many accompanied by a slew of themed items and gifts.
The highest bid of the night went to a tree decorated with a Duck Dynasty theme. Sponsored by Health Net and Columbia Bank, the barbed-wire tree included items from the television show, as well as hunting, fishing and survival equipment, such as a youth rifle, a shotgun, a propane heater, and a barbecue.
With a bid of $2,500, the items will be delivered to Joyce Dye.
"It was loaded with things we can use," Dye said of her purchase. "My daughter just asked today what she should get her brother. This takes care of that, and it takes care of tickets to get my granddaughter here for Christmas."
Two trees, Beaver Nation and Lumieres Scintillantes de L'Amour (Sparkling Lights of Love), each brought in $2,000.
The "Beaver Nation" package included Oregon State University items, a Traeger grill and skybox tickets to an OSU football game. Lumieres Scintillantes de L'Amour centered on the romance of the city of Paris, including food and wine, a red hutch, chaise lounge, luggage and a framed canvas print.
With wrapped gifts and wine barrel chairs, the "Sit and Sip a Bit" tree brought in $1,800, the third highest of the evening.
Total funds raised from the dinner – provided by Simply Catering and Tom Spoo – were not available Saturday night, but the live and silent auctions brought in more than $15,000, not including proceeds from the raffle tree.
The "Owl Be Home For Christmas" raffle tree features a number of toys and tickets to Disneyland. Proceeds will benefit the city of Hermiston's Oxbow Trail project. Tickets for that raffle are $10 a piece and will be sold during the Festival of Trees Family Day today.
Hosted by the Greater Hermiston Soroptomist Club, Family Day will include cookie decorating, letters to Santa, crafts, a bubble machine, pictures with Santa, gift bags and other activities. The suggested donation is $4 per family.