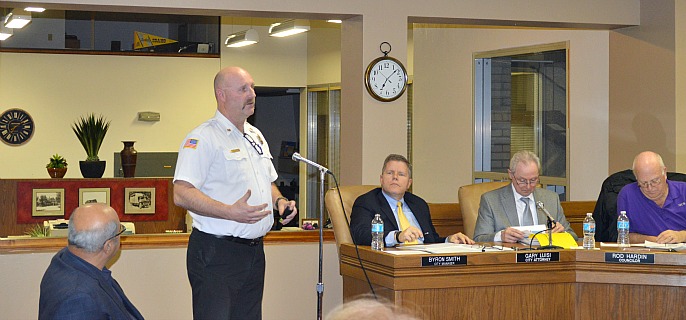 Last year, Hermiston Fire Chief Scott Stanton tried to convince voters to pony up some extra tax revenue so the department could keep up with the growing number of emergency calls coming from its service district.
The voters soundly rejected the idea.
It's been a year since voters said no and the calls for service have only increased. On Monday, Stanton was at the Hermiston City Council meeting to talk about another measure designed to help the fire department operate more effectively and efficiently.
Much like last year's measure, voters will be asked to dissolve the current Hermiston and Stanfield fire districts and combine them into one district that services all of West Umatilla County and a portion of Morrow County. If passed, it will allow the department to fully staff a second station in Hermiston and keep up with increases in service calls.
The biggest difference between last year's measure and next year's proposed measure is the cost. This time around the measure would cost taxpayers $1.75 per $1,000 of assessed property value, down from the $2/$1,000 a year ago. The district currently receives $1.20 per $1,000 of assessed value, which is about 84 cents per $1,000 less than the state average.
"It's not like we're asking for a pie in the sky," Stanton told the council.
Hermiston taxpayers, however, will not see their tax bills increase even if the measure passes because state law limits the amount of property taxes which can be paid for "general government" services to $10 per $1,000, and Hermiston residents are already capped out at the $10 level. If taxes exceed the limit, then the actual amount paid by taxpayers, and disbursed to taxing districts, is compressed to fit within the cap. What that means is that the city will lose some tax revenue that it typically receives, because it would be diverted to the fire district. Under compression, if the measure passes next year, the city would lose about $136,000 per year.
Stanton said that without new tax revenue, the department will continue to be pushed beyond its capacity. Service calls have increased by about 5.6 percent a year for the past decade without a corresponding increase in personnel. He said there are times when the department is delayed getting to a call because all personnel are already out on other calls.
"Delays will increase if this fails and it will eventually cost someone their life or their property," Stanton said.
Last year, voters rejected the similar measure by 57 percent to 43 percent. The measure is expected to go on the November 2016 ballots.