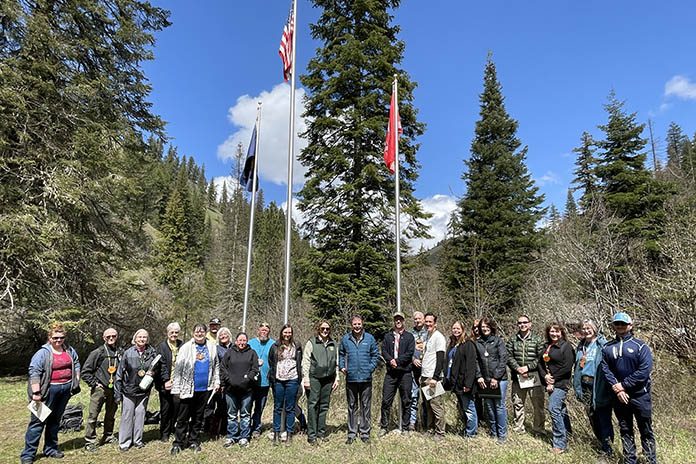 It was a typical spring day in the mountains of eastern Oregon – some sunshine and some rain — on Friday, April 29 when a group of about 30 people gathered at the site of the Outdoor School program.
The crowd made the trek to the U.S. Forest Service's Buck Creek Cabins/Corporation facility to celebrate the 50th session of Pendleton School District's Outdoor School (ODS) program, marking more than five decades of teaching sixth grade students in the wilderness of the Umatilla National Forest.
Since the early 1970s, Pendleton sixth graders have ventured to the ODS site on the banks of the Umatilla River to apply skills developed in the classroom to real -life situations found in the natural environment.
The Pendleton Outdoor School Program and Intermountain Education Service District (IMESD) collaborated on the celebration, inviting former ODS campers, counselors, field study volunteers, teachers and community supporters.
At the celebration, two events occurred – a Flagpole Dedication Ceremony and a Building Dedication Ceremony.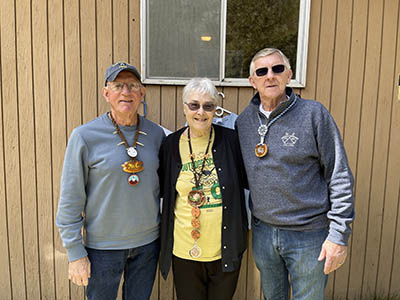 In 2018, three individuals began work on the flagpole project – Chris Demianew and John Summerfield, Outdoor School coordinators at Sunridge Middle School, and Bob McMillan, Outdoor School Coordinator at IMESD. Three organizations donated funds toward the purchase of the three new flagpoles: Pendleton Kiwanis, Sunridge Parents Club and VFW Let'er Buck Post. Pendleton Tum-a-Lum Lumber donated concrete and building materials for the foundation of the poles. Members of the Pendleton Kiwanis Club volunteered on two separate occasions to lend their talents and labor to the project.
Although the new flagpoles were installed in May 2019, they were officially dedicated at the recent April 29 event. They will fly the U.S. flag, the state of Oregon flag and the CTUIR flag.
The other main presentation at the 50th anniversary event were three ODS buildings being renamed and dedicated in honor of three individuals who contributed their time, talents and skills to the ODS program:
Cookhouse: Bob McMillan
Bunkhouse: Jim Christensen
Ranger Cabin: Vern Willcox (passed away in 2018)
Christensen and Willcox founded ODS after Christensen attended a workshop in spring 1970 put on by the USFS to promote outdoor school programs. When Christensen left teaching in 1981, Willcox and Bob McMillan continued to direct the ODS program. Members of all three families attended the event.
Dr. Mark Mulvihill, IMESD Superintendent, spoke at the celebration. He thanked Rotary Club of Pendleton, which has provided significant funding for remodeling buildings at the ODS site and volunteers for the annual clean-up. He also acknowledged IMESD, which since 2011 has been the USFS leaseholder for the ODS location and provides administrative support and maintenance.
"I believe that Outdoor School has changed the lives of several kids," said Mulvihill. "It is something that all students in the Pendleton School District look forward to. Also, when Pendleton High School seniors are asked what their favorite thing during their 13 years of school was, often it is Outdoor School."
More information about the Pendleton School District ODS program is available on its Facebook page or by emailing PendletonODS@pendletonsd.org