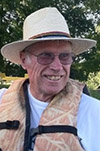 Floyd Cecil Davis of Hermiston passed away at his home on Nov. 26, 2022 while battling esophageal cancer.
He was born on May 16, 1942 in Farmington, N.M. to Cecil and Julia Davis.
As a child he lived in Grandview, Wash., where he attended school and graduated from Grandview High School in the class of 1961. He then attended Columbia Basin Community College for a couple of years.
As a young man, Floyd worked as a cowboy on a ranch in Prosser, Wash., where he formed many fond memories. He later worked as a truck driver for Pendleton Grain Growers. His career with PGG spanned a total of 27 years until retiring in the early 2000s. He lived in Prosser, Wash. until the late 1990s. He had resided in Hermiston and a short time in Worley, Idaho since the late 1990s.
Floyd was an active member of the Hermiston Nazarene Church, where he taught Sunday school, lead a small group, and participated on many work and witness trips. He also enjoyed trips with ROAM (RVs on a Mission) for many years. In his younger years, he was known for his ability to run a 4-minute-15-second mile. He also enjoyed going fishing, attending auctions and spending time with and playing with his grandchildren.
Floyd married Eileen Samons; they had four children together prior to their divorce. He later married Mavis Davis and she preceded him in death. He married Maryanne Miller in 1996 in Grandview, Wash.
He is survived by his wife, Maryanne; four children, Bill (Lora), Andy (Lisa), Cindy (Judy) and Chris (Johanna); four stepchildren, David, Marci (Simon), Sarah and Joshua; 12 grandchildren and seven great grandchildren; and many extended family members.
He was preceded in death by his parents and brothers, Raymond and Roy.
A funeral service will be held at 11 a.m. on Saturday, Dec. 10, 2022 at the Hermiston Nazarene Church, 1520 W. Orchard Ave.
Burial will follow in the Hermiston Cemetery.
To leave an online condolence for the family, please go to burnsmortuaryhermiston.com.
Burns Mortuary of Hermiston is in care of arrangements.