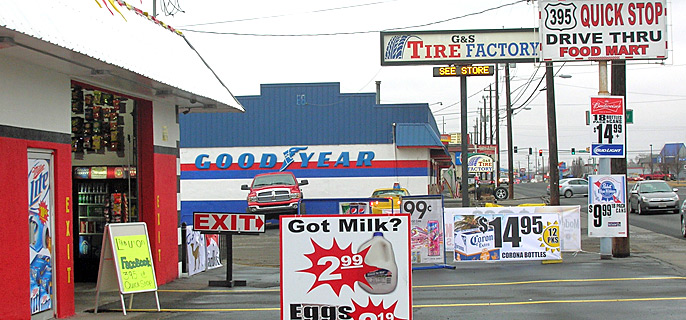 Hermiston's newest convenience store takes customer service to a unique level.
Situated on Highway 395 between G&S Tire Factory and Sunset Motel, 395 Quick Stop Drive-Thru Food Mart allows customers to pick up refreshments and basic groceries in the time it would take to get their cars washed.
"It's another level of convenience," says owner Junior Ortega. "I have kids, and I've had to run into a store and get something. This way you don't have to unload your kids." The drive-through accommodates any vehicle from a Volkswagen Beetle to a monster truck.
"If you have a horse trailer behind you, you just come through," said Ortega.
395 Quick Stop opened on Christmas Day. It carries bread, milk, cheese, eggs, and a variety of snack foods, as well as a wide assortment of beverages including sodas, Gatorade, Starbucks Frappuccinos, fresh coffee and horchata — "We're famous for our horchata," Ortega said. The store recently added Italian sodas and fountain drink flavor shots to its inventory. He hopes to eventually add a deli.
Prior to opening 395 Quick Stop, Ortega worked at Tom Denchel Ford for 10 years.
"I quit my job eight months ago to put everything into this building," he said. "I'd never seen (a drive-through convenience store), but I've heard of them. This was something new, and I always wanted my own business." Ortega intends to make 395 Quick Stop a family business.
"Something to hand down to my kids."
395 Quick Stop places strong emphasis on customer service. "With customers it's about something special," says Ortega. "I want to make it the Disneyland for both parents and their kids. It's all about making sure people leave with a smile."
395 Quick Stop is open daily from 5 a.m. to 10 p.m. For up-to-date information on the products offered, visit the 395 Quick Stop Facebook page.