Former Hermiston City Council member and longtime radio station owner Harmon Springer died.
Springer, who owned and operated KOHU, died Nov. 19 at the age of 89.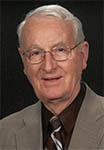 After attending Baylor University, Springer went to the Elkins Professional School of Radio. He married Willie Boling in 1953 and moved to Hermiston where he and a partner bought KOHU in 1966. Springer served as manager and engineer until he retired in 1997.
Springer played an active role in the Hermiston community. Along with serving on the city council, Springer was a member of the Hermiston Rotary Club, the Oregon Water Coalition, the Hermiston Chamber of Commerce, and the Blue Mountain Community College Board of Directors.
He also was a member of the National Association of Broadcasters and served as president of the Oregon Association of Broadcasters. In 1998, he was named Man of the Year at the Hermiston Distinguished Service Awards.
A celebration of life service will be held on Tuesday, Nov. 30, at 1 p.m. at New Hope Community Church, 1350 S Hwy 395, Hermiston.