President Joe Biden announced plans to nominate Oregon tribal leader Charles "Chuck" Sams III to direct the National Park Service.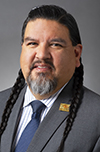 Sams is the former director of the Confederated Tribes of the Umatilla Indian Reservation and is currently a member of the Northwest Power and Conservation Council.
He is the first Native American to be nominated for the National Park Service director post.
Sams has worked in state and tribal governments and the nonprofit natural resource and conservation management fields for more than 25 years. He held several leadership roles with the Umatilla Tribe, including recently as executive director. He has also worked in leadership positions with the Indian Country Conservancy, Umatilla Tribal Community Foundation, and more.
The nomination will now be considered by the U.S. Senate.