Mariela Caldera was honored at Monday night's Hermiston City Council meeting as the winner of the Funland Playground Art Contest.
Caldera, from Stanfield and a former Eastern Oregon University student, turned in two pieces of art that represent the community's Latino culture.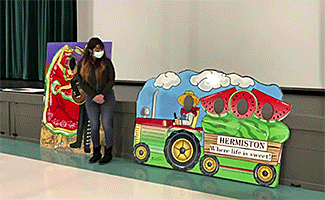 Jose Garcia, chairman of the Hermiston Hispanic Advisory Committee, thanked Caldera for her art and the city for giving artists the opportunity to create artwork that embodies the Latino community.
"We're going to be looking at this art for generations to come," he said.
Hermiston Mayor Dave Drotzmann presented Caldera with a certificate along with a check for $500.
"We wanted to make sure we identified the cultures within our community," said Drotzmann as he thanked her for her contribution.
Caldera has embarked on an art career and said she wasn't going to pass up the chance to showcase her talents while also creating a lasting piece of work that represents the local Latino community.
"I'm really passionate about art," she said. "When I heard about this opportunity, I really wanted to take it."
Hermiston Parks & Recreation Director Larry Fetter said he is still hoping the new Funland Playground will be ready to open during Memorial Day weekend.
"We need a lot of things to go right for that to happen, but we hope to get a full season of use out of it," he said.