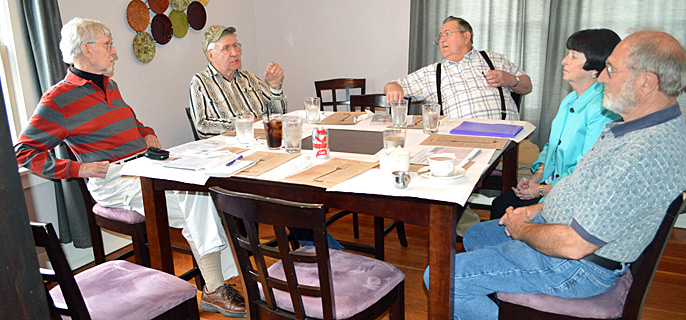 A table for eight was set up at Walker's Farm Kitchen in Hermiston Thursday and the lunch guests treated themselves to soup, salad and sandwiches – along with a generous portion of Jim Ward stories.
Ward, who passed away Jan. 4 at the age of 86, was a legendary Hermiston High School coach and teacher who guided the 1954 baseball team to its first-ever league championship. Gathered around the table on Thursday were some of his former players and students. Some were from Hermiston, but others came from Pendleton, Warrenton and Klamath Falls to swap stories, laughs and memories of the man.
The get-together was organized by Joe Primm, a 1956 HHS graduate who now lives in Klamath Falls.
"He was a wonderful coach, but, more importantly, I connected with him as an adult after I left high school," said Primm.
Rita Walker, owner of Walker's Farm Kitchen, had the same experience with Ward.
"After you graduated, you just became closer and closer to him," she said. "He became part of our family."
Many of Ward's former players were with him at the start of his coaching career. It was 1951 and he had just taken over the job of coaching a group of green eighth graders. George Dodson of Hermiston was a big-hitting third-baseman for the 1954 championship team, but was part of that inexperienced eighth-grade squad, as well. His memory is still vivid of an early on-field mistake he made while playing for Ward.
"I had just got a base hit and was on first base," Dodson remembers. "Jim was in the first-base coaching box and he tells me to be sure to tag up on a fly ball. So, the next guy hits a fly ball to the outfield and I go back to touch first but, not really knowing the rules, I take off for second before the outfielder catches the ball.
"Well, he throws the ball to first and I'm out for leaving too early. As I go back to the dugout, Coach yells, 'What the hell were you doing!' I said, 'You told me to tag up.' He says, 'Yeah, but you're supposed to wait until he catches the ball before leaving the base!' "
But Ward's gruffness masked his more kind, sympathetic nature. Dodson remembers a particularly cold and windy spring when the team was taking batting practice.
"We were all moaning and complaining about how cold it was and Jim came over and says, 'Just remember, my mother always told me that March comes in like a lion and goes out like a lamb, so just hold on for a couple more weeks.'
"I always remember that every spring."
Bill Manny was a senior during the 1954 championship run and enjoyed one of the all-time great high school pitching seasons. He was 10-1 including a no-hitter against Pendleton that also included 17 strikeouts, a record believed to still stand to this day.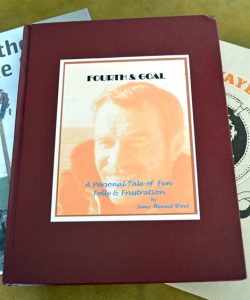 Several years ago, Ward wrote his personal memoirs called "Fourth & Goal." Chapter 11 of the book recalls the 1954 championship season and in it he mentions several of the people gathered at the table on Thursday. A copy of the book is at the Hermiston Public Library.
Manny said Ward gained the respect of everyone who knew him and tells the story of a contentious school board meeting that demonstrated Ward's integrity. Manny doesn't remember what the bone of contention was between Ward and the school board, just the outcome.
"Ward was right and the school board was wrong," Manny said. "He called their bluff and went to the board meeting and stated his position. Then, after stating his case, as he got up to leave he said, 'If you don't like it, you'll notice as I walk out the door there's a bit of mistletoe hanging from my shirttail.'
The board eventually sided with Ward.
"But he didn't care if he lost his job," Manny said. "He was a man of principles. He was a rare duck."
Ward didn't lose his job, of course, and continued with the school district for several more years before retiring from coaching and teaching in 1967. He later ran the Greyhound bus station in Umatilla before moving to Lewiston, Idaho.
But during his years at Hermiston High School, Ward was not only the school's baseball coach, he was also the team's football coach for a time and later became a basketball referee.
"Wherever there was a sport, that's where Jim was," said Bill Bush, a 1957 Hermiston grad who still lives in town.
Dwayne Huddleston, HHS class of '56, who now lives in Warrenton, said Ward got him into refereeing basketball games and later inspired him to get into coaching baseball.
He shared with the group on Thursday an incident at a high school game that he and Ward officiated in Milton-Freewater. A fan, who clearly had too much to drink ("He was three sheets to the wind," remembers Huddleston), was giving Ward a rather rude and difficult time. According to Huddleston, Ward managed to ignore the fellow for a time, but eventually he had enough.
"I was about to hand the ball over to one of the players for an inbounds play when I notice that Jim is at the other end of the floor, off the court," Huddleston recalls. "I couldn't let the game continue until Jim came back on the court, so I just held onto the ball and waited to see what was going on.
"So Jim goes into the stands, takes the guy by the elbow and walks him to the double door leading out of the gym and escorts him out. He closed the door on the guy and the game continued."
Huddleston could barely finish his story before breaking out in laughter at the memory and the others at the table nodded their head and smiled.
"I feel the spirit of Jim at this table" Primm said.
Manny attended Ward's funeral service in Lewiston, Idaho. He said it was the most remarkable service he had ever attended.
"There must have been 50 to 60 people there and 90 percent of them got up to talk about Jim," Manny said. "I've never been to a service like it."
Ward's influence on his players and coaches lasted long after their high school careers were over. Huddleston went on to coach baseball and was inducted into the Oregon Baseball Coaches Hall of Fame. This spring, he will enter the Oregon Athletic Directors Association Hall of Fame, as well.
Bush said they all learned from Ward.
"When Jim took on a job, he wanted to do it right," Bush said. "He taught us all there's a right way and a wrong way to do anything and he always did things the right way."