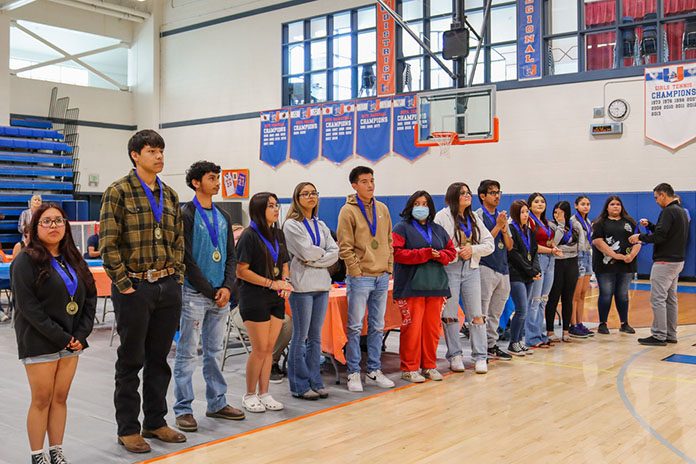 By Elizebeth Burres
Students from Umatilla High School reached a milestone this past spring, earning the Oregon State Seal of Biliteracy (OSSB).
Fourteen seniors earned the seal and were awarded medals at the Class of 2023 graduation ceremony.
The Oregon State Seal of Biliteracy is a program that honors students who are bilingual. There are three main requirements to earn the seal – students must meet all high school graduation requirements, demonstrate proficiency in one language, and then also demonstrate proficiency in a second language. Students are typically required to meet specific criteria, such as passing exams or completing language coursework to show they are proficient.
David Lougee, the district's ESL (English Second Language) director, said that the Seal of Biliteracy serves as a powerful motivator for students to pursue language learning and demonstrates the district's dedication to bilingual education.
"We are a bilingual school district now," he said. "Our hope is to help everyone become bilingual. We believe this is something that everyone can obtain," said Lougee.
Within the district, there are several bilingual opportunities for students. McNary Heights Elementary provides dual language classes from kindergarten through fourth grade. Additionally, students at Clara Brownell Middle School and Umatilla High School have the opportunity to take Spanish classes.
Lougee said dual language classes are taking it to a whole new level, allowing more students to learn a second language from an early age. It has benefited not only English-speaking students who are learning Spanish but also Spanish-speaking students. "Bilingual classes are helping our Spanish-speaking kiddos learn English faster," said Lougee.
Lougee hopes that at the high school level, the Seal of Biliteracy will motivate students to pursue bilingual education and that by earning the seal, they will be able to acknowledge and celebrate the students' achievements.
Beyond earning a medal, the seal has the potential to unlock countless opportunities for students in the future. With the seal, students can gain an advantage in college admissions, and it can help them obtain jobs later down the road.
To learn more about the Oregon State Seal of Biliteracy, click here.
Elizebeth Burres is the communications coordinator for the Umatilla School District.