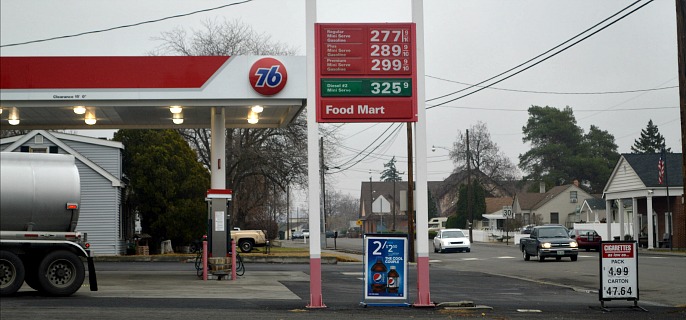 Motorists are enjoying a holiday bonus with gas prices at their lowest level in five years. For the week, the national average for regular unleaded skids 13 cents to $2.53 a gallon while Oregon's average plunges 15 cents to $2.77.
"AAA estimates drivers are saving more than $400 million dollars each day compared to the high prices paid earlier this year," said AAA Oregon/Idaho Public Affairs Director Marie Dodds. "Both the national and Oregon averages are more than a dollar lower from the 2014 peak prices. The national average peaked at $3.70 a gallon in April and the Oregon average peaked at $3.98 in July."
The average price at the pump has fallen nearly 25 percent since the start of the year, and if the global price of crude continues to register new multiyear lows, these lower prices are likely to persist. Barring any unexpected spikes in global prices, or declines in domestic production, the price at the pump should remain relatively low approaching the New Year and into 2015, s.aid Dodds
Every state in the continental United States is posting an average price below the $3 per gallon benchmark. Hawaii ($3.69) and Alaska ($3.36), as is often the case, are the nation's most expensive markets for retail gasoline. In the lower 48 states, drivers in the Northeast are paying the most for gas: New York ($2.97) and Connecticut ($2.89). The nation's least expensive markets are the Midwestern states of Missouri ($2.22) and Oklahoma ($2.27).
Gas prices are lower for the week, month and year in in all 50 states and Washington D.C. as a result of crude oil prices plummeting to multi-year lows. Retail pump prices are down by a nickel or more week-over-week in every state and Washington, D.C. Oregon is one of 41 states with savings of a dime or more. For the month, the price has dropped by 20 cents or more in every state during this span.
Diesel prices are also moving lower. The national average falls 11 cents to $3.38 a gallon. Oregon's average nosedives 16 cents to $3.29. Diesel is at or above $4 a gallon in just one state, same as last week. Hawaii is most expensive at $4.75, followed by North Dakota at $3.84, New York at $3.68, Michigan at $3.67, and Alaska at $3.67. Idaho is 18th down from 17th at $3.49 (down a dime). Washington is 19th up from 20th last week at $3.46 (down 12 cents). California is 20th down from 18th last week at $3.46 (down 13 cents). Oregon is 36th down from 32nd last week. A year ago, the national average for diesel was $3.85 and Oregon's was $3.86.