General surgeon R. Todd Jones, MD, is trading in skyscrapers and taxi cabs for agriculture and glistening streams at Good Shepherd Medical Group (GSMG) upon completion of his Residency at Metropolitan Hospital of New York, New York Medical College in New York City.
Though new to Hermiston, Jones is no stranger to the medical community of Hermiston who has anxiously been awaiting his arrival since August of 2016, when he and his wife, Jennifer Poste, MD, local endocrinologist, first toured the Good Shepherd Health Care System campus.
A native of Bellingham, Wash., Jones was looking for an opportunity to use the skills he acquired in New York in a rural community.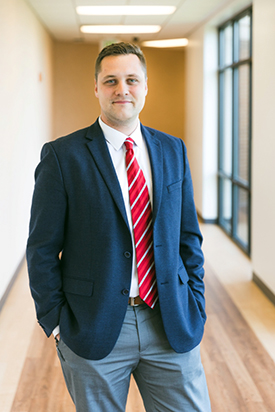 "I grew up in a small town," said Jones. "It's been my desire to return to a small community. I grew to miss the small town lifestyle while living and working in New York. Moreover, I feel that I can make a more palpable impact on the community around me by helping to provide medical services that are so desperately needed in rural communities that are often in short supply – general surgery."
As a general surgeon, Jones will work closely with primary care physicians, emergency room physicians, and hospitalists to provide critical medical care for anyone with a surgical condition. He said he wants to be an integral part of your care team and looks forward to building relationships with his patients.
"Working in a smaller community really gives me a chance to have a more intimate relationship with my patients and their families – something that "big city" medicine would never have to offer," said Jones.
In addition to the many surgical and minimally invasive procedures Jones has to offer, he has extensive specialized training in treating all aspects of venous disease which has a whole host of symptoms such as, spider veins, varicose veins, swelling, ulcers, and deep vein thrombosis. Venous disease affects approximately 50 percent of the U.S. population who often go with out medical treatment.
While not in the operating room, Jones enjoys spending time with his wife. You may also see him hiking, running, snow boarding, wake boarding, kayaking, fishing, hunting, camping, and a host of other outdoor activities.
 Jones is welcoming new patients at the Good Shepherd Medical Group General Surgery office located at 620 NW 11th St., Suite 202 in Hermiston. For more information and to schedule an appointment, call 541.667.3804 or visit online.