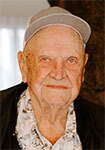 George H. Barton of Hermiston died on Nov. 18, 2021 in Hermiston at the age of 98.
He was born on Oct. 14, 1923 just south of Havre, Mont. to Joseph and Carrie Kunkel Barton.
George grew up in Montana. His family farmed wheat and raised sheep and horses. Life had its joys and hard knocks. After five years of catastrophic crop failures, the family moved to the Corvallis area when he was 13. In Corvallis, George and his older brother, Don were known for their hard work as young men, farming, logging and trucking to support the family, as the teen boys had run their mean father off the farm.
George loved wrestling and raising sheep for his FFA project, winning state awards with both. He and his brother tried to enlist in the war efforts but were declined, as they were considered essential to the family and community. George was married to Fern Andrews, 1946-1970, and they had children Richard, Pamela, Sandra, and Robert. He was married to Verna LaPlant in 1972 until her passing in 2005, and together they had daughter, Janet.
George owned two trucking businesses, Central Oregon Livestock Transport and later, Western States Livestock Transport. George was known for his care of the livestock and his green and white trucks during the '50s and '60s hauling cattle, sheep, and hogs in 11 western states and three provinces of Canada. Prior to that, he hauled rock for building McNary Dam and horses to Hollywood. Very seldom was he home, as he usually gave his drivers time off for holidays and time for family. He was an innovator and was the first to have built aluminum livestock truck boxes and trailers. He later built his own after moving to Hermiston in 1958 with the help of brother, Bill and son, Rich. They started Barton Industries, Inc., specializing in truck body and trailer repair in the 1970s. The broken trailer sign along the freeway was an icon. George got into
excavation and in 1989 with son, Bob, started Barton Laser Leveling, Inc. with the first laser-guided machine control equipment in the area.
George was a life member of the Elks, Eagles, and Moose lodges. He enjoyed road trips, clam digging, shooting pool (which he was very good at until age 96!), drinking beer with his buddies while tormenting the bartenders, and Sunday morning family breakfast.
He is survived by sisters, Frances, Geneva, and Marciel; children, Pam Noble (Dave) of Baker City, Sandy Prock (Dave) of Sisters, Bob Barton (Joan) of Hermiston, and Janet Wright (Brad) of Milwaukie; grandchildren, Shelby, Michelle, Shanna, Kari, Kyle, and Eleanor; great grandchildren, Cody and Emily; several nieces and nephews; and special people, Roxi and Hector.
George was preceded in death by his parents; wives; significant other, Joanne Coburn; brothers, Don and Bill; sisters, Margaret, Marilyn, Dorothy, Lois, Juanita, and Mary Lou; son, Richard; and grandchildren, Jacob and Tiffany.
A celebration of life will be held on Saturday, Dec. 4, 2021 at 1 p.m. at the Hermiston Cemetery.
In lieu of flowers, please donate to a charity of your choice.
Please share memories of George with his family at burnsmortuaryhermiston.com.
Burns Mortuary of Hermiston is in care of arrangements.