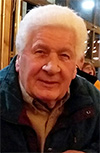 Gerald Ray McBee passed away on Oct. 7, 2021 with his family by his side at the age of 81.
He was born on July 24, 1940 in Elsberry, Mo. to Harry M. McBee and Blanche Kay McBee.
Gerald was united in marriage to Danice Johnson on Aug. 28, 1980.
During his early childhood the family traveled southern states, Arizona and California, where his father worked construction. When he was 9 the family moved to Athena, then to Helix, where he graduated from Helix High School in 1959. He enjoyed playing football and baseball. After graduation he and his twin brother, Jerald enrolled in the Pendleton Technical School, now Blue Mountain Community College. Gerald studied autobody repair and paint. His brother studied mechanics and automotive chassis. They worked together on Jerald's wheel stander, the Defiance. After graduating from technical school, he managed the auto body repair shop for Rohrman Ford. During that time, he developed a lasting friendship with Leonard Ware. He worked at Ware's Autobody for over 30 years.
In his early teens, he was interested in many things. He built glider airplanes and was currently working on a motorized glider with a 6-foot wing span. At the age of 14, he became a licensed taxidermist. He was an excellent shot with a bow and arrow, searching out birds and small animals to practice his taxidermy skills. His mother was a good sport, allowing him to display them in her living room. When he was 16, he mounted a golden eagle for the Pendleton Eagles Lodge.
But his true passion was building hot rod cars. His talent was admired by many people, and he developed lifelong friends who shared his passion. He followed the Good Guys' motto, "You gotta drive 'em," and he did. He and Danice toured with the Good Guys and Jerry Dixie of the National Street Rodder Association many times. The longest tours were to Columbus, Ohio, Minneapolis-St. Paul, and York, Pa.
He is survived by his wife of 41 years, Danice; his former wife, Darlene Tehennape; children, Corey McBee, Tina Montgomery, Brian Johnson and Danette Warren; grandchildren, Taelor McBee and Andrew McBee; and brothers, Everett "Gene" McBee and Donald Webber.
He was preceded in death by his parents; twin brother, Jerald; and infant son, Shannon McBee.
A celebration of life will be held on Oct. 23 from 2 to 4 p.m. at the Maxwell Siding Pavilion, 255 N. First St., Hermiston.
In lieu of flowers, please make remembrances in Gerald's memory to Vange John Memorial Hospice Education Fund or a charity of your choice.
Please share memories of Gerald with his family at burnsmortuaryhermiston.com.
Burns Mortuary of Hermiston is in care of arrangements.