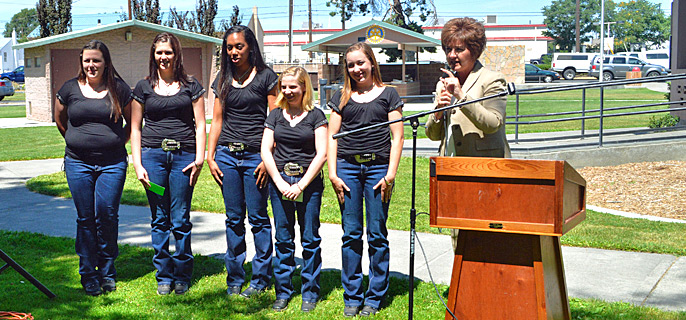 The Umatilla County Fair kicks off in less than two weeks, so let's take a moment to get to know this year's Umatilla County Fair Ambassadors. The following profiles come courtesy of the Umatilla County Fair website:
Umatilla County Fair Ambassadors promote the Umatilla County Fair and related activities. New Ambassadors are appointed in January of each year through an application process by the Umatilla County Fair Board. The year-long appointment brings together students from across Umatilla County who will have a passion for the fair and all its activities.

Chelsey Jean Sharp, 16, is a longtime lover of the Umatilla County Fair, first through volunteering with family and later through 4-H. The Junior 4-H Leader is in the Hermiston High School Color guard, Winter guard and Marching Band. In Sharp's free time she enjoys the great outdoors, with a special fondness for sheep. She hopes to attend Eastern Oregon University and eventually run her own chiropractic office.

Cassie Poumele, 17, gives back to her community, volunteering at the Agape House, Hermiston Talent Show and canned food drives. The Hermiston High School junior is a member of the tennis team and marching band as well as a youth leader at her church. Teachers describe Poumele as hard-working and professional.

Amy Prindle, 17, has plenty of ambassadorial expertise. She was a two-year junior ambassador for the city of Umatilla and one of last year's Fair Ambassadors. Prindle said her experience at last year's Fair was the best yet, and couldn't wait to represent her county again. The Umatilla High School junior is involved in track, cheer, 4-H, basketball, cross country, volleyball, Key Club and student government – to name a few. She also takes online college classes to get ahead on her dream of going to medical school.

Ashlynn Holwegner, 16, was a 2012 Fair Ambassador. With a passion for dance and faith, the Hermiston High School junior hope to attend Whitworth University to become an athletic trainer at a private dance academy. She is heavily involved in her church and Color guard.
Holwegner said her motto is "Always do your best, for what you plant now will harvest later."

Meghan McDonough, 16, is set to finish her associate's degree in accounting by the time she graduates Hermiston High School in 2014. She manages to take both high school classes and Blue Mountain Community College courses while maintaining a part-time job at Maurice's in Hermiston.
Outside of work and school, McDonough enjoys cheerleading, racing cars, reading and photography.

Janay Woodward, 15, is the youngest of the group. Involved in both 4- H and FFA, the Hermiston High School sophomore said dogs are her favorite animal to train, although she does have a special fondness for pygmy goats. Woodward is her 4-H club president and takes part in her church youth group.
She wants to open her own bakery after attending culinary school in Portland."