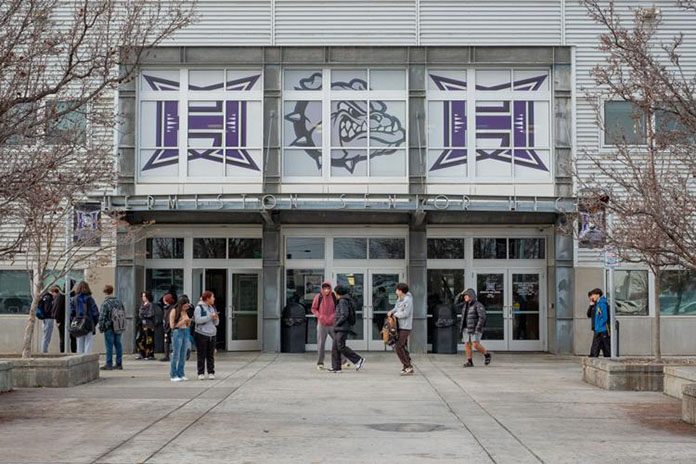 Teachers and administrators at Hermiston High School since the start of the 2021 school year sent 146 out of 1,712 students to the office to change clothes due to dress code violations.
Almost all of the 146 students were females, according to data from the Hermiston School District.
Dress code within the Hermiston School District was a point of contention early in the school year, but the code is not going to change in the foreseeable future, according to the district.
Some students and their parents voiced their concern during a board meeting in September. Now, concerns over the code has quieted. According to the board, no one is bringing up the issue during its public meetings. Meanwhile, school administrators have been reluctant to talk about the issue. Students and parents, who previously expressed disapproval over the code declined interviews. And an American Civil Liberties Union lawyer is saying the code may be within the legal rights of schools.
More than 10 times as many female students since the 2021 school year faced discipline over the dress code compared to male students, according to data from the Hermiston School District.
No students were in trouble for dress code violations during the 2020-21 school year due to the COVID-19 pandemic and the use of distance learning for the majority of the year.
The district provided the information in response to public records requests from the Hermiston Herald.
According to data, 13 out of 881 male students have been sent to the office to change due to dress code violations while 133 out of 826 female students have been.
That amounts to less than 1.5% of male students and 16.1% of female students.
Out of the 146 students who got into trouble for dress code violations, 20 were warned and/or disciplined for repeated dress code violations during the same period.
When it came to a guidance referral due to dress code violations, boys took the lead with four compared to three for girls.
Hermiston High School provides a chart with guidelines for unwanted behavior. The highest behaviors, labeled with a "3," include such behaviors as arson, distribution of drugs and rape. Level 2 behaviors include alcohol use and encouraging fighting.
The chart lists dress code violations Level 1 behavior, alongside profanity and use of electronic devices and phones.
The punishments for a first dress code offense are warnings and requirements to change clothing.
For a second offense, students receive school detention, a requirement to change clothing and contact by administration to the student's parents.
If a student violates the code three times, that student can receive a three-day suspension, a requirement to change clothing and a meeting between parents and administrators.
A July 2022 letter to parents states Hermiston High would "be focusing on the dress code." The letter, sent before the school year, linked to details of the code.
"Points of emphasis" listed in the linked document are as follows:
"The chest and/or midriff, both front and back, are not to be exposed."
"Ears should be uncovered inside the building; i.e. hoods must be down while in the building. Hats may be worn, but may not cover the ears."
"Underwear must not be visible."
"Clothing or jewelry that is obscene or promotes drugs, tobacco, alcohol, gang membership/affiliation or other inappropriate products or activities is not allowed."
"Dark glasses are not to be worn in the building, without proper medical documentation."
The document lists the three-tiered response for first, second and third offenses.
Students and parents spoke out about the code at the Sept. 12 school board meeting. Girls stood against the code, and said it was unfair.
Ginny Holthus, Hermiston School District School Board chair, said the board appreciated students coming forward with their concerns.
Though she stated the board supports the district's code of conduct, the board itself is not responsible for it. Rather, it is a school rule that "falls under the purview of day-to-day operations of the district."
A district representative said schools will not change their dress code.
The Hermiston Herald has sought interviews about the dress code with school district Superintendent Tricia Mooney and Principal Tom Spoo. They have not responded to those requests.
Kelly Simon, legal director for the ACLU of Oregon, said questions about dress codes are not new, and there are relevant legal decisions on them.
"Schools do have some ability to regulate student clothing," she said. "But when they choose to do so, those rules can't discriminate based on gender."
Simon provided an example, bringing up regulations on skirt length. As long as schools are applying the rules to every student, not singling out students of one gender, schools can set skirt length, she said. It doesn't matter that boys are unlikely to wear skirts.
Simon added the school in question must be able to connect their dress codes to educational purposes.
The district gave reasons for the code, stating it "is established to promote appropriate grooming and hygiene, prevent disruption and avoid safety hazards."
"It is the responsibility of students, staff, parents and visitors to meet this expectation thus not disrupting the educational environment and/or creating a safety hazard," a district statement reads.
Though within the rights of schools, Simon called it a "dangerous standard" to prohibit clothing on the basis of it being distracting, as it could invite gender discrimination. Such discrimination, if it can be proved, could be illegal in both federal and state law, she said.
She said schools have a responsibility to look at the disparity between girls and boys in any punishment dished out.
They should, then, correct it.
Also, Simon gave advice to students who feel they are being subjected to discrimination.
"You have rights under both state and federal law to be free from discrimination," she said, "and if you feel like your rights are being violated, please reach out to the ACLU of Oregon."