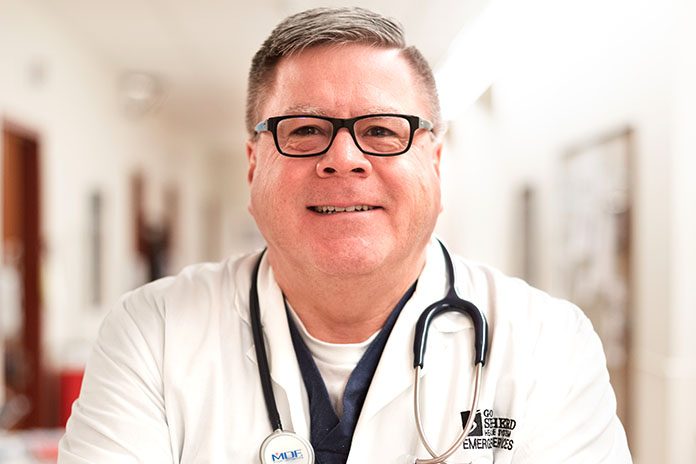 Good Shepherd Health Care System (GSHCS) has announced Robert McCauley, MD, as the new medical director over Emergency Services (ER).
McCauley is joining GSHCS from Team Health, a National Medical Group, where he served as regional medical director over all Team Health physicians in the Pacific Northwest.
"My role with Team Health was to make sure that our physicians were committed to meeting and exceeding federal and state quality and safety measures," said McCauley.  "Though the work I was doing is very necessary in today's healthcare environment, I missed the direct impact that I personally had on patient care. After working with GSHCS for some time at the regional level, I began to appreciate the emphasis they placed on enhancing the patient experience throughout the organization."
In 2016, GSHCS began a process they call the Service Excellence Initiative (SEI), with the goal of becoming the health care system of choice for community members when needing to access healthcare services. Since embarking on this journey, GSHCS has received several accolades such as a Healthgrades Patient Safety Excellence Award and a Top Workplaces Award by the Oregonian in 2017, a Top Workplace Award and 39 Breakthrough Awards in 2018.
"As one of the first points of contact with any health care system, the ER needs to be a place where people feel they are receiving competent, compassionate and prompt care," McCauley said. "GSHCS has a talented group of physicians, mid-levels (physician assistants and ramily nurse practitioners), and nurses that are well trained in caring for the communities we serve during their emergency situation. As a Level III Trauma Center, we are equipped to care for some of the most challenging conditions that come our way. As the medical director, my goal is to continuously work on improving – reducing wait times and improving each customer's experience regardless of the situation they may be in. Our team of physicians and clinical staff are trained to manage and care for our community in most emergency situations. We work with our patients to find tertiary emergency services at other facilities if the need arises where access to additional specialists is readily available."
Good Shepherd Health Care System Emergency Services provides Level III Trauma Services and a Fast Track option for lower acuity walk-in care. If you are experiencing a medical emergency please call 9-1-1.