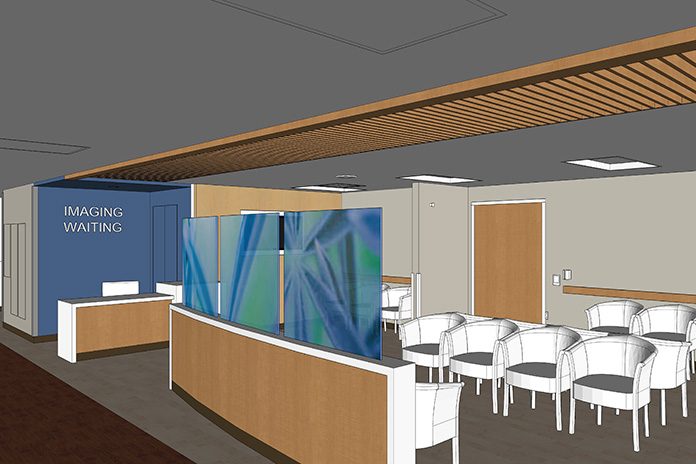 The Diagnostic Imaging Lobby and Laboratory Draw Station (Lab) located within the hospital at Good Shepherd Health Care System (GSHCS) are undergoing a major renovation.
The renovation, which began on Thursday, is designed to improve patient flow, and access to Diagnostic Imaging (DI) and Lab services.
"We have made some significant improvements to the GSHCS campus in recent years, most notably the North Wing Expansion of the Good Shepherd Medical Plaza which provides more space for medical services and new campus signage which makes it easier for patients to navigate the campus," said GSHCS Chief Operating Officer Jim Schlenker. "Now that we have improved our external spaces our focus is on improving spaces internally, beginning with changing the flow and registration process for DI and Lab services. This will allow us to expand and combine the DI and Lab lobbies into a single location. We will then be able to expand the number of draw stations available in the Lab, allowing for us to adequately accommodate more customers for Lab draws at the same time. I am confident these updates will help meet the needs and expectation of our growing community for years to come."
According to GSHCS, the remodel is expected to reduce wait times by significantly expediting the patient registration process since there will be more registration offices. With the addition of private registration offices, this change will help protect patients' private health information as registration will take place in private offices.
Construction on the DI and Lab project is due to be complete in mid to late summer. During the renovation, DI and Lab patients are asked to register for services within the main lobby of the hospital. Additional Customer Service Staff will be on hand and available to help patients navigate through the construction zone and help direct them on where to go for services. Once the remodel is complete check-in will take place in the adjoining offices adjacent to the DI and Lab lobby.
GSHCS offers four Lab draw locations for your convenience; GSHCS Main Lab open Sunday through Saturday, 7 a.m. to 6 p.m.; Good Shepherd Rural Health Clinic Lab located at the A entrance open Monday through Friday, 8:30 a.m. to 4 p.m.; Good Shepherd Medical Plaza open Monday through Friday, 8 a.m. to 4 p.m.; and Good Shepherd Urgent Care open Monday through Friday, 8:30 a.m. to 5 p.m.