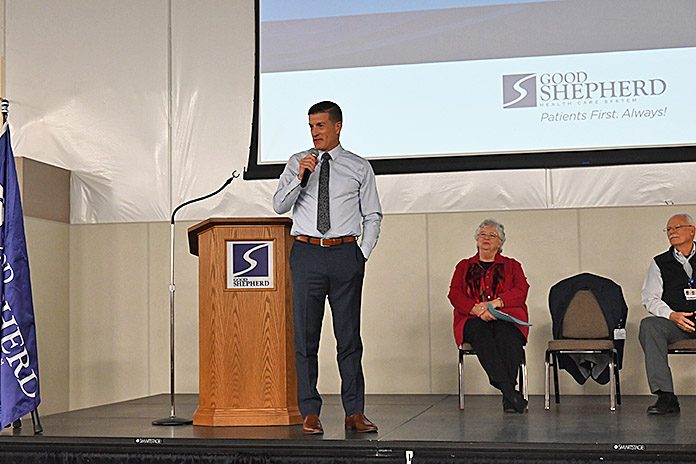 On Wednesday evening, a smiling Sue Daggett opened the first in-person Community Meeting held by Good Shepherd Health Care System since 2019.
Daggett, the chair of the Good Shepherd Board of Trustees, opened the meeting, held at the Eastern Oregon Trade & Event Center, by talking about the community benefits of Good Shepherd including $9.2 million in charity care provided during the past fiscal year.
"This is the value of care provided to a patient who doesn't have the resources to pay," she said.
Daggett talked about public events benefitting the community including Family Health & Fitness Day in September attended by more than 600 people and the substance abuse awareness walk in April with more than 300 participants. Good Shepherd also has four CareVans to provide free rides to Good Shepherd for appointments. The Lovin' Spadefuls Community Garden is open to anyone to grow their own vegetables.
Daggett also mentioned Good Shepherd's monthly Lunch & Learn sessions that focus on variety of health-related topics.
Good Shepherd President and CEO Art Mathisen spoke at length about the importance of the hospital's motto, "Patients First. Always!"
"That's what we all do here – put patients first in all that we do and the decisions we make," Mathisen said. "When you ask, 'What's best for the patients?' You always come up with the right answer."
Mathisen, who came on board in July, ticked off some of Good Shepherd's highlights of the past year:
Named Best in Class Employer in 2022
9,606 visits to pediatrics clinic
16,933 Urgent Care visits
9,097 home health visits
37,844 primary care visits
4,503 general surgery visits
14,516 orthopedic visits
24,435 emergency room visits
More than 1 million phone calls answered
"We are really busy here," he said.
Mathisen said it takes a team to do what Good Shepherd does and that team consists of more than 800 employees and around 200 contracted workers. Among those 800-plus employees are six new physicians and clinicians.
"We are a people organization taking care of people," he said.
This past year, Good Shepherd and Life Flight announced plans to build a hanger on the hospital campus.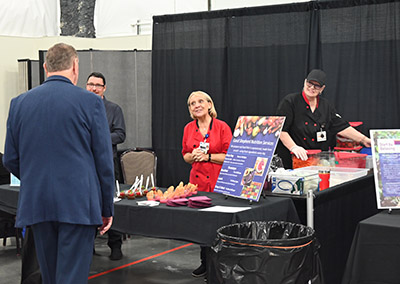 "Having a helicopter means you save lives," Mathisen said. "I'm really excited that we're partnering with Life Flight. It's unprecedented for a hospital our size to have a Life Flight base on campus."
Mathisen said a new Urgent Care clinic is coming to Highway 395.
"Trust me, it's coming," he said. "Bear with us."
Other accomplishments of the past year include receiving the 2022 Performance Leadership Award for Excellence in Outcomes, earning a 5-star rating for Vange John Memorial Hospice and being ranked in the 100th percentile in patient satisfaction in the emergency department.
The Good Shepherd president wrapped up his talk with a patient testimonial. The patient, said Mathisen, was himself. He had cut his leg badly just prior to moving to Hermiston this past summer. He decided to have it taken care of at Good Shepherd. He nearly waited too long as he developed a staph infection.
By the time he was finished with his treatment, Mathisen said he experienced nearly every aspect of what Good Shepherd has to offer including the doctors, nurses, clinicians, lab staff, the pharmacy and the cafeteria.
"It was a great experience I wouldn't wish on anybody," he said. "But what I learned is that this is the right place to be to get the care you need. I couldn't have been in a better place, and neither can you when you walk in our doors."
The meeting also featured a talk by Dr. Ann Rust on advanced robotics surgeries performed at Good Shepherd.
"We've developed state-of-the-art care in Eastern Oregon over the past couple of years," she said. "The quality of care we provide is equal to that of much larger hospitals."
Rust spoke of the challenges of starting a new program.
"A lot of people don't want to come out and start a new program," she said. "It's really easy to walk into a built program."
Despite that, Rust said Good Shepherd has nine robotic surgeons on staff, many recruited from the Tri-Cities.
Rust talked about the benefits of robotic surgeries including:
Minimally invasive procedures
Smaller incisions
Less scarring
Reduced risk of infection
Faster recovery times
Reduced overall health care costs
Good Shepherd Community Health Foundation President Dean Fialka highlighted the accomplishments of the past year including raising more than $80,000 during the Festival of Trees and more than $50,000 during the Scramble for Scholarships golf tournament. The foundation also awarded $213,766 in grants to more than 20 organizations.
This past spring, the foundation gave $69,000 in medical scholarships to 37 high school graduates, college students and medical professionals.
Wednesday's event also included a health fair prior to the community meeting. A total of 23 booths representing Good Shepherd services were on hand. Free flu shots were provided along with free health screenings that include blood pressure and BMI checks, and A1C and lipid panels.
The evening ended with door prizes given out. Some of the prizes included $500 gift certificates from local businesses, an entertainment center, two iPads and more.