For the first time in 31 years, Good Shepherd Health Care System will be under new leadership come October.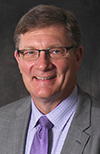 The GSHCS Board of Trustees announced that Brian Sims, MBA, FACHE, has accepted the position as the next president and chief executive officer (CEO).
"We are pleased to welcome Brian and his family to the Hermiston community," said Steve Eldrige, chair of the Board of Trustees. "After a rigorous recruitment process including three excellent finalists, the Board is confident Brian is the right fit for our organization."
Sims will assume the position Oct. 1, succeeding current President and CEO Dennis Burke, who announced his intent to retire last October after more 31 years leading Good Shepherd.  Sims brings with him 10 years of executive leadership experience, leaving his recent appointment of CEO for five years with Lucas County Health Center (LCHC) in Chariton, Iowa – a fully accredited 25-bed Critical Access Hospital (CAH), similar to GSHCS.
During Sims' recent tenure, LCHC was recognized as a "Top 20 Critical Access Hospital for Quality" by the National Rural Health Association, nationally ranked 125th of over 1,000 CAHs by the Chartis Group, a 2018 CMS Four-Star Facility, and earned a designation as an Exemplar Rural Health Clinic Practice by the Centers of Medicare & Medicaid Services (CMS).
"Brian has a strong track record of proven experience leading a Critical Access Hospital, with an emphasis on continual improvement in operations," said Burke. "He is an excellent choice as CEO and will build upon our success here."
Originally from rural Arkansas, Sims spent 20 years working in the United States Air Force, during which time he oversaw the recruitment of physicians, nurses and allied health professionals as the director of recruitment, among other roles.  He obtained his Master of Business Administration with an emphasis in organizational development from Upper Iowa University.  Sims has held the Senior Professional in Human Resources (SPHR) as recognized by the Society for Human Resource Management (SHRM) and is currently a Fellow with the American College of Health Care Executives (FACHE).
"I enjoy small town health care and the personal level of care each patient is able to receive at their community's hospital," Sims said. "My goal is to continue to build upon the legacy of providing the best care for the communities we serve, to innovate as technology allows, be the hub for all wellness/healthcare and earn the recognition as one of the top hospitals in the nation.  In more simplistic terms, my goal every day is to ensure each patient feels just a little bit better going out the door than when they came in."
Sims comes from a health care background.
"My mother was a nurse, my aunt is a nurse and most of my cousins are nurses or nurse practitioners," he said. "Sometimes as a child, I slept in the hospital where my mom worked.  By the time I turned 17 and headed off to Arkansas State University, I concluded that I would never work in health care. After I started listening to my heart instead of my head, I found my way back to health care.  When a person learns what fuels their passion, they will never work again.  What I do now fuels my passion and I am very thankful to have an opportunity to serve GSHCS, Hermiston and our little portion of the world."
Sims and his wife, Traci, have four adult children and four grandchildren.  Outside of work, he enjoys playing golf, cooking and reading a good biography.