Good Shepherd Health Care System (GSHCS) is welcoming the addition of physiatrist Mariam Washington, DO.
Originally from Southern California, Washington recently spent the majority of her time in San Antonio, where she completed her residency in Physical Medicine and Rehabilitation from UT Health San Antonio. Washington joins chiropractor Christopher Scott, D.C., in the new Physical Medicine & Rehabilitation Clinic temporarily located in the Good Shepherd Medical Plaza, Suite M-103, until their permanent new space is completed.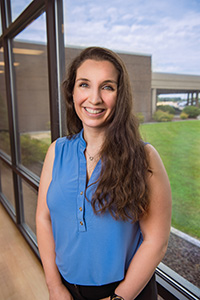 Washington said she chose a career in physiatry in order to developing deeper, lasting connections with her patients.
I didn't just want to treat a disease, but rather, I wanted to improve the lives of my patients overall by a more holistic approach to medicine," she said. "I wanted to help my patients get back to work, school, or just playing around with their grandkids; whatever it was they wanted to do to be happy."
In choosing where to practice, Washington said she knew she wanted to move to the Pacific Northwest and was particularly interested in the small-town feel found in Hermiston.
"It was most encouraging to have the opportunity at Good Shepherd to start a Physical Medicine & Rehabilitation Clinic from scratch," she said. "Being able to build this program from the ground up would allow me to tailor the clinic to both the needs of the community and my practice."
Patients will typically be referred to Washington from primary care, orthopedics, neurosurgery, neurology and other specialties that need physical medicine and rehabilitation referrals. After an initial consultation with Washington, patients will be treated for acute and chronic pain through targeted physical medicine techniques and procedures with the goal to make life more functional.
Her specialties include, musculoskeletal procedures, ultrasound-guided peripheral joint injections, headache injections (botox/greater occipital nerve blocks), electrodiagnostic procedures, osteopathic manipulation, and much more. The Physical Medicine & Rehabilitation Clinic team will also provide patients with physical therapy and chiropractic services with the help of Scott.
The Good Shepherd Physical Medicine & Rehabilitation Clinic is welcoming new patients and is located at the Good Shepherd Medical Plaza, 620 NW 11th St., Suite M-103. To schedule an appointment with Washington, call 541-667-3832. For a more complete listing of services, visit the Good Shepherd website.